Tidlos Craft had the honor to speak to Toray, an experienced collector and a member of "Wrist Times Club". It is a great pleasure to have Toray sharing his precious collecting journey with us.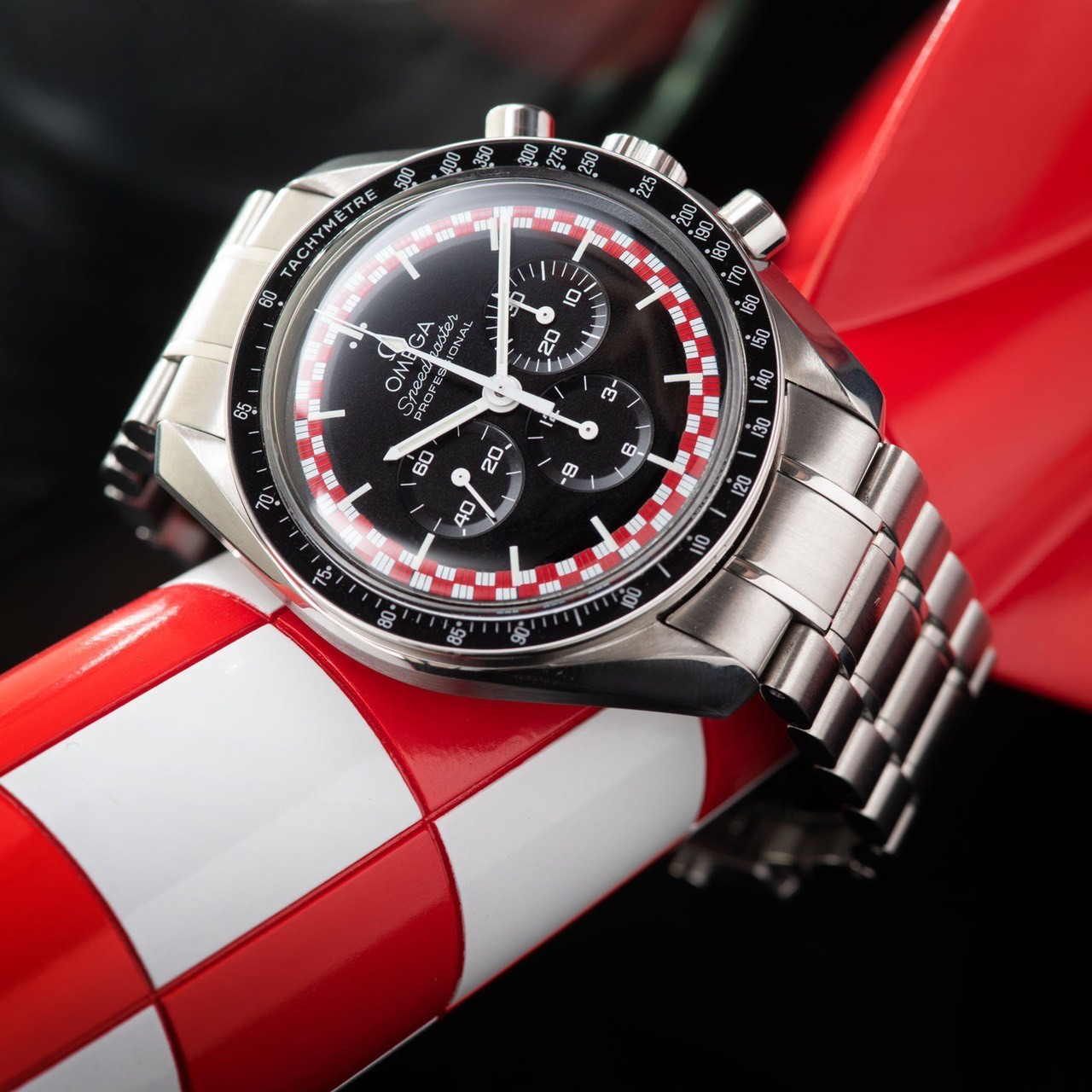 One of Toray's Watch, Omega Speedmaster, Photo Courtesy of Bulang and Sons
TC: Thank you Toray for joining us. Where are you originally from?
Toray: My family and I migrated to Australia a long time ago, I completed all of my studies over there. I moved back to Taiwan in 2007 for a great job opportunity.
TC: What was your first watch?
Toray: After graduating from college, I had saved up some money for a few years. I bought myself a TAG Heuer CT211 as a reward to myself for making it!
TAG Heuer, CT2113.BA0550, Photo Courtesy of Watchfinder
TC: Which watch do you wear the most, or which one do you love particularly?
Toray: I don't have a watch that I wear the most often, my taste also changes over time. In the beginning, I preferred sports watches and their toughness. After that, I developed my interest in elegant dress watches. Recently, I am drawn to cut-glass watches from the 60s and the 70s. I love leather strap watches, however, due to the Covid-19 situation, I mostly wear steel strap watches because we have to use alcohol spray everywhere.
TC: Generally speaking, do you purchase watches more on the internet or from Authorized Dealers?
Toray: I usually purchase new watches from an authorized dealer, vintage watches from online sites like ebay. However, it takes a lot of luck. I have had many experiences that I call "scammed by photos", the watches looked nothing like the photos and there is nothing you can do about it.
TC: Which part of the watch do you value the most or what do you pay the most attention to when choosing a watch?
Toray: I don't have a particular part of theme when choosing a watch. I am a pretty casual person overall, it may also be because of my development and evolution in the taste of different watches. Of course I have a certain interest in classic watches but I also love collecting pieces that are different from others.
I love watches with stories and my favorite one is about my Omega. Omega originally wanted to co-launch this Speedmaster with The Adventures of Tintin (Les Aventures de Tintin et Milou). I loved this cartoon very much when I was a kid. I remember one scene where Tintin goes to the moon and this watch has the pattern of Tintin's rocket! Unfortunately, the joint project didn't officially happen so it wasn't very popular at the time whereas now more and more people are discussing this piece with great interest.
Omega Speedmaster Tintin, Photo Courtesy of Revolution Watch
The Adventures of Tintin, Explorers on the Moon
TC: Do you like any micro- or independent watch brands?
Toray: I am not too much into microbrands but I have paid quite a bit of attention to Baltic Watches, I like their retro styles very much. As for independent watchmaking, I appreciate F.P. Journe a lot, especially their top polishing skills, among which I particularly like its simple and elegant Chronomètre Bleu.
F.P. Journe Chronomètre Bleu, Photo Courtesy of Professional Watches
Baltic Watch, Photo Courtesy of Baltic Watch
TC: What would your holy grail be?
Toray: There are many, but as long as I have a Patek Philippe Nautilus, I should be satisfied. I would also be glad to own the Royal Oak Jumbo of Audemars Piguet, it seems to be discontinuing soon. However, the prices of these two models have been skyrocketing recently, perhaps I'll have them in my dreams.
Patek Philippe Nautilus, Photo Courtesy of haute horlogerie
Royal Oak Jumbo, Photo Courtesy of Watch Insider
TC: Many brands are now providing customized watch services, as well as many enthusiasts are modifying their own. What is your opinion on these personalizations?
Toray: If I wanted to, I would only change the watch straps at most. Many are modifying their watches of other brands into more Rolex-looking, I don't think that it is original or creative at all. However, I have seen someone adding an Ukiyo-e element into a Seiko dial, making it even more Japanese than it was, I find that very interesting!
TC: Which media do you usually read for watch knowledge?
Toray: I often read on Hodinkee, as well as Watchville, it has a similar network that helps readers organize watch information from different media channels, very convenient. I prefer to read on the internet rather than actual magazines, it has the most up to date information afterall.
There are several great communities in Taiwan that provide information really quickly but I still prefer reading English websites as they provide information faster than the Chinese ones.
TC: Many western collectors are drawn to Seiko watches, what is your opinion on the Seiko or Asian watch scene?
Toray: I personally adore the Seiko watches from the 60s and 70s. At the time, the brand was very innovative and creative, with many epochal designs, such as the 6105-8100/10 worn by the character Captain Willard in "Apocalypse Now." Grand Seiko was also launched during that time. I particularly like watches of that era because they give me a vigorous feeling of that period of time.
Recently, Seiko has been promoting their re-vived watches, while the prices are not very friendly, the accuracy has also been criticized by many. In my opinion, their watches are not as interesting now. However, from a business perspective, it is more in line with economic benefits. The cost of launching watches with different designs with various movements is higher, at the same time, watches that are too innovative would increase repaire concerns. After all, mechanical watches' original intention is still reliability and accuracy.
Captain Willard's Original Watch Seiko 6105-8100, Photo Courtesy of Pinterest
2020 Seiko's Captain Willard SPB 153, Photo Courtesy of Monochrome Watches
TC: What advice would you give to beginners who want to start collecting watches?
Toray: I would say to spend more time exploring, researching and asking for advice from seniors. Although I think as long as you like the brand and style, you shouldn't care about what others think but it's important to understand what you like and what you need to pay attention to. This way, you don't have to waste that much when learning.
TC: What do you like about the Taiwanese Watch Community?
Toray: I like the feeling of sharing and discussing watch knowledge between friends in a club like "Wrist Times Club." I personally don't like the showy atmosphere in some other clubs or groups but everyone has their own preferences, they are just not suitable for me.
TC: What kind of stories do you want the brands to tell?
Toray: I think it is impossible for brands or media to cater to the preferences of all readers, I don't have opinions on the angle the brands take. However, when focusing on telling the history of the watch, I hope to see as well the technical knowledge and specification information of the watch. For example, when I purchase vintage watches or straps on the internet, it would be great to know the size of the buckle, diameter, original manufacturer information and more in-depth details of the movement.
Each brand has different cultures and purposes, some focus on storytelling, some focus on its practicality, it doesn't mean they have to meet the same standards.
TC: Is there any collector or watchmaker you want to recommend to the readers?
Toray: Either I am not that familiar with the Taiwanese watchmaker environment and the technology or they are all well hidden, I think there are many great ones in Taiwan but with a very low-key profile. As long as you pay attention, you will find that they are just everywhere around you.
TC: Thank you Toray for joining us today!
Toray: Thank you Tidlos Craft.