Tidlos Craft is very honored to invite Ian (@mr.ian.c), the founder of "Wrist Times Club" (腕上時光,) for an interview. In an era where brands and social media cannot be separated, Ian is here to share with us how he turned his personal interest into one of the most popular Taiwanese watch communities and how he views the future trend of watch development in the Asia-Pacific region.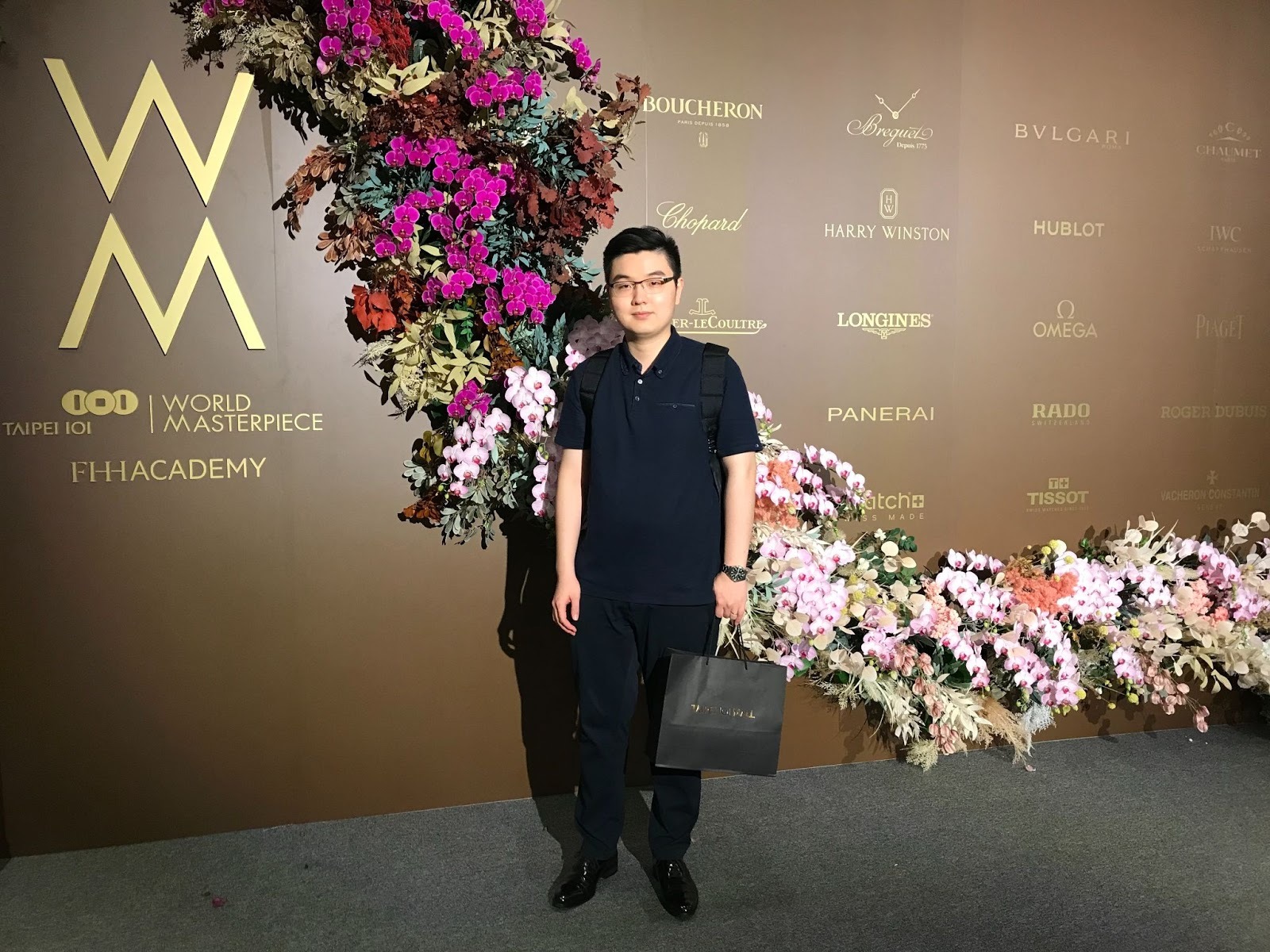 Photo Courtesy of @mr.ian.c
TC: Where are you from?
Ian: I am from Taipei and I was born and raised here.
TC: How did your watch collection journey begin?
Ian: Many things happened at once, a friend told me I should own a watch when I was getting married last year. When I was out shopping one day, this SEIKO caught my eye. It was so beautiful that my wife bought it for me as we couldn't have our honeymoon due to the pandemic. I was never interested in watches before but since then, I fell into the rabbit hole, it is so interesting!
TC: What is the impact of growing up in Taipei as a collector?
Ian: I noticed that most of the Taiwanese watch enthusiasts are located in Taipei. I think that's why I am able to continue my interest so easily. Taipei also has the best watch stores in Taiwan, the people and ambiances are always very nice. I visit them a lot and I think it is lucky to live in Taipei as a watch enthusiast.
TC: What was your first watch?
Ian: My first watch was a Casio electronic watch called Databank, given by my father when I was in middle school. It can store phone numbers so I used to store my parents' and relatives' numbers in it. I dug it out again last year, the plastic watch strap was already ruined. I tried it on again after changing it and found out everyone's numbers are still in it, all the nice memories came up like that.
Photo Courtesy of @mr.ian.c
TC: Does your family member collect watches?
Ian: They like SEIKO in general but didn't really collect them. However, I alway saw my father having steel watch straps on his wrist, it was the symbol of father to me for a very long time.
TC: What was the first watch you bought?
Ian: It was the SEIKO Presage that I bought as my wedding souvenir. Normally the Presage series would only be launched internationally when the market is mature in Japan, mine should have been produced in 2018. What's interesting is that although this watch is in the SEIKO official catalog, it didn't have "Presage" printed on it because they were still testing the market response here. It didn't matter to me at all because this was one of the most beautiful watches in my opinion.
After trying it for a while, I found many wonderful features, such as its Arabic numerals and its Rolex Air-King style case. It is also very comfortable on my wrist, it built the foundation for my passion for watches.
Photo Courtesy of @mr.ian.c
TC: Do you have any special memories with a specific watch?
Ian: Watches are really a special thing, they built up my relationship with my father-in-law. He is a very serious person, not very easy to talk to. However, ever since he discovered my passion for watches, we started having common topics to talk about. I will always remember that day when he drove to our house just to hand me a Zenith El Primero. He turned around immediately with a straight face and left. Watches are a beautiful bridge between me and my family, I am very grateful.
Photo Courtesy of @mr.ian.c
TC: Does your work have any influence on your watch collection?
Ian: I am in the advertising industry and I am always curious about brand stories and strategies. After all, the watch industry is quite mature, one can learn about their histories, product quality and event planning while being a watch enthusiast.
On the other hand, this industry also has a certain impact on my work. When pursuing innovation, I find that many classic old methods are applicable and relevant, such as organizing events and watch enthusiasts gatherings. Many industries pay less and less attention to the emotional connection between people, I personally cherish these opportunities to spend time with them.
TC: How did you start your IG account?
Ian: Having bought many more watches, I found that a lot of people would take pictures of their watches. After trying, I discovered that watches are beautiful no matter how pictures are taken so I started my IG account as a diary.
It is very different when you appreciate watches through camera lenses. For example, you can appreciate details of the movement very closely. When the light slides over, you can also see how polishing skills matter. I got to learn that each brand and watchmaker has their own craftsmanship, these are usually not easy to notice with the naked eye.
IG is a great channel for making friends. It's like a business card of my own. I can introduce myself to my new enthusiasts.
TC: How did you set up the watch community "Wrist Times Club" (腕上時光)?
Ian: Because of the nature of my work and my interests in watches, I thought why not experiment and see what sparks would come out. Some may think the collection is for their own appreciation but I think it is even more suitable for making friends with others.
"Wrist Times Club" (腕上時光) was established in 2020. I started with creating a group and invited collectors I admire to join. I emphasize the concept of co-building, although I am the "moderator", I constantly encourage members ​​to share actively. Then I started seeing many senior collectors begin to share articles of different depths and teach newbies. My role is more of an integrator, trying to keep all the information available and forever.
Photo Courtesy of @mr.ian.c
TC: As a community manager, do you have any goals?
Ian: I want to develop "Wrist Times Club" (腕上時光) into an even more profound club. Everyone in the group has their own ideas and it's very powerful, so I hope my role can bring some heartfelt moments and warmth. For example, I would make special membership cards for them. Although there is no special function, it is very memorable, and it makes you feel like being part of a wonderful community. I would also make small leather gifts for members. In the future, I want to make watch boxes and repair tools with our logo on it so members would feel the community when using it.
TC: What do you think of the watch community in Taiwan?
Ian: I think there are advantages and disadvantages. The advantage is that everyone is involved very seriously. Some will sign up for courses and even know how to repair watches by themselves which is very impressive. On other hand, we regard deeply the cost-performance ratio rather than seeing it as a lifestyle.
I personally admire a group of people abroad. They specialize in SEIKO modifications, the money spent on modification has far exceeded the cost of the watch itself, but this is their love and joy in life. This kind of lifestyle is very cool!
TC: What do you think of independent brands?
Ian: For me, there are two types of independent brands, one is the high-end type with its own technology and philosophy, and the other one is microbrands. I personally pay a lot of attention to microbrands.
After all, the supply chain of microbrands is relatively immature and there are fewer channels. I think maintenance and workmanship are very important, so I usually suggest people try it on first. It is just that most of the microbrands are online, harder to have the joyful experience of trying them on.
When I was little, my parents always wanted me to wear a watch so I chose a Taiwanese microbrand quartz watch from ATOP. I also like another UK brand very much called AVI-8. Their designs are inspired by military aircrafts, very cool.
Photo Courtesy of @mr.ian.c
TC: What are the interesting things about working with brands?
Ian: The most fun part is that I can discuss closely with the brand, I even get to see some products prior to its launch. I am able to provide my thoughts to exchange with them. I always look forward to whether the Swiss original factory will hear my voice. I will be very touched and proud if they take my opinions. The latest collaboration was with Titoni.
TC: Do you collect pre-owned watches?
Ian: Yes, I usually call them "old watches" just because each vintage watch is so unique and developed differently through time. I have two favorite pre-owned watches, one is the Glashütte Original Spezimatic 26 female watch bought by my father-in-law. Now my wife likes to wear it very much. This watch was made by Glashütte in the East German period.
The other one was accidentally bought at the Tianmu Flea Market. I saw a SEIKO at the old watch stall and asked the boss to open the lid to show me the movement. When I couldn't make up my mind, it suddenly rained. The old man didn't seem to understand that he should be putting the lid back due to the humidity. I was too afraid that he would put it back this way so I bought it quickly. I then brought it to a repairman I know, it came back in very good condition however with a little bug living in the dial. It was too funny seeing a small animal running on the dial.The story of this watch is very funny and so worth sharing, I call it the most troublesome watch!
Photo Courtesy of @mr.ian.c
Photo Courtesy of @mr.ian.c
TC: What do you think of the reputation of the leading Japanese watch in Asia?
Ian: Everyone knows the national characteristics of Japan and that they make the most high quality products. Although for many years, everyone believed Switzerland and Germany had the best watch craftsmanship, they started looking at Japan. For western countries, it is very attractive that there is such a country with such a mature system on the other side of the world.
Watches are always inseparable from history. Japan entered the watch industry pretty early on, more than 150 years ago, they already have a lot of watch history. Although China came into the game a little bit later, now with some history, they can also start having stories to share.
TC: Taiwan and SEIKO always have a special connection, what do you think?
Ian: With Taiwan and Japan's geographical location and historical contacts, we are deeply influenced by the Japanese culture and cannot be separated from it. In the early days, Japanese products meant "durability", it was very in line with the Taiwanese mindset. It left a very good impression on the generation of our grandparents and parents. Our generation will naturally have a great affection for SEIKO, many SEIKO watch stories are tied with family connections.
It is very interesting that the older generation rarely saw Grand SEIKO, it was just a series at the time. Now as it is an independent brand itself, I look forward to seeing its developments and how to overcome future challenges.
TC: How do you understand and read watch information and the market?
Ian: I like to watch YouTube and watch media in both Chinese and English. One can understand a lot about our own culture by reading the Chinese one and can see new perspectives through the English ones.
I started learning from a YouTube channel called "Xue Liang" (學良,) and now I also enjoy watching Bryant's sharing on "Time Concept" (時間觀念.) Brian is about my age, I feel like I can identify with and it is great to be able to see watches through his eyes.
I hope that the media in general can share more information about watch design. Personally, I am particularly interested in design concepts, case design and many more.
TC: The future of Asia?
Ian: Asia is currently market-oriented and our purchasing power is amazing, however, countries rarely communicate with each other due to language barriers, so product design will please specific countries. I think that although the languages ​​ are different, cultures are similar, I look forward to the future when brands will make it community-oriented, so that there will be no borders. This way, everyone can learn from each other and have a broader vision.
TC: Which watch is your favorite?
Ian: I still love the wedding one the most, it was my first real one after all. The first one is always irreplaceable. If not this one, my favorite is MIDO's Ocean Star rainbow bezel decompression watch. The watch is a tribute to the original version in 1961, therefore there were only 1,961 pieces in the world. With different colors at different diving depths, you can tell you need how much time to come back to the surface. It is very easy to wear and I would also put it in the water to try it out.
Photo Courtesy of @mr.ian.c
TC: What's your holy grail and what would you like to collect in the future?
Ian: The holy grail when I first entered the pit was ORIS BIG CROWN PROPILOT X, but now I really want a watch with a German movement with a transparent back, but I don't know which brand I want yet.
I would also like to collect Patek Philippe's Nautilus, which has a perfect case shape and is definitely the most suitable watch for men. I am also particularly interested in the series of watches made by SEIKO for Issey Miyake. There is a mechanical watch designed by Tokujin Yoshioka, very beautiful and special!
22Studio is a Taiwanese brand, they specialize in designing cement watches, which are very famous in the watch and design circles. I was strolling one day, and the boss took the initiative to show me the watch. When I said that I liked their design but did not need to buy it yet, they said that they would work hard to improve. This sincerity and hard work attitude moved me very much. I still pass by often, because one day I want to collect one of them.
Photo Courtesy of @mr.ian.c
Photo Courtesy of @mr.ian.c
TC: Do your family like watches?
Ian: My wife likes watches very much, I am very glad that she is part of it. She comes to every watch event with me, I am very lucky. We spend a lot of time together, it would be difficult to continue this passion without her support along the way. I adore her Oris Big Crown Pointer Date, the most elegant piece. When I have children in the future, I hope I can go out with them to discuss which watch to buy. That would be a simple happiness for me.
Photo Courtesy of @mr.ian.c
TC: What is your philosophy of collecting watches?
Ian: You must socialize and connect with people, owning watches is just like making friends, there is no absolute. Buying watches is a kind of mechanical romance, when collecting, I will give them the value of art and appreciation.
TC: What advice would you bring to young/beginners?
Ian: Don't be afraid of buying it wrong, don't be afraid of others' opinions, ask what it means to you and give it value, otherwise you will buy too much and it won't last long.
TC: Ian, thank you very much for your time today
Ian: Thank you, and I am very happy to share many interesting stories and ideas with you too!
_____
More related links:
Wrist Times Club Facebook Group