Tidlos Craft had the great pleasure to get to know Raymond from @clueless_collector, a truly enthusiastic, passionate and philosophical watch collector with many interests and as we will find out, not so clueless after all.
Tidlos Craft: Thank you Raymond for connecting and exchanging stories.
@clueless_collector: Thank you very much for inviting me.
TC: Where is your family originally from?
@clueless_collector: I'm originally from Singapore but moved to the West Coast in the early 2000s. I was working in the semiconductor field in Singapore but then got a job offer from a company based in the US, so I relocated with my wife. My son was later born in the US. We enjoy living here as we can experience 4 seasons, only people living in Singapore where it is hot and humid can really understand that.
TC: When did you get interested in watches?
@clueless_collector: When I was 5 or 6 years old, I remember my older brother coming home with a brown bag. Inside was a watch which he gave me as a gift. This was the first conscious time I remember thinking about watches. In my teenage years I got more interested in them.
In Singapore you can see watches everywhere, in magazines and shopping malls. I was standing in front of glass windows and just gazing at them, seeing how they move. My father had one Rolex Datejust, which was passed on to my older brother.
TC: What fascinates you about watches?
@clueless_collector: I'm amazed by all the tiny intricate parts that go into a watch and how they all work in harmony to tell time. All the additional functions such as a calendar or moon phases are fascinating and make me wonder how that can be achieved within a super small case size. Working in the semiconductor field, I work in the sub-micron geometries, thinner than a human hair, so all these tiny things just truly fascinate me.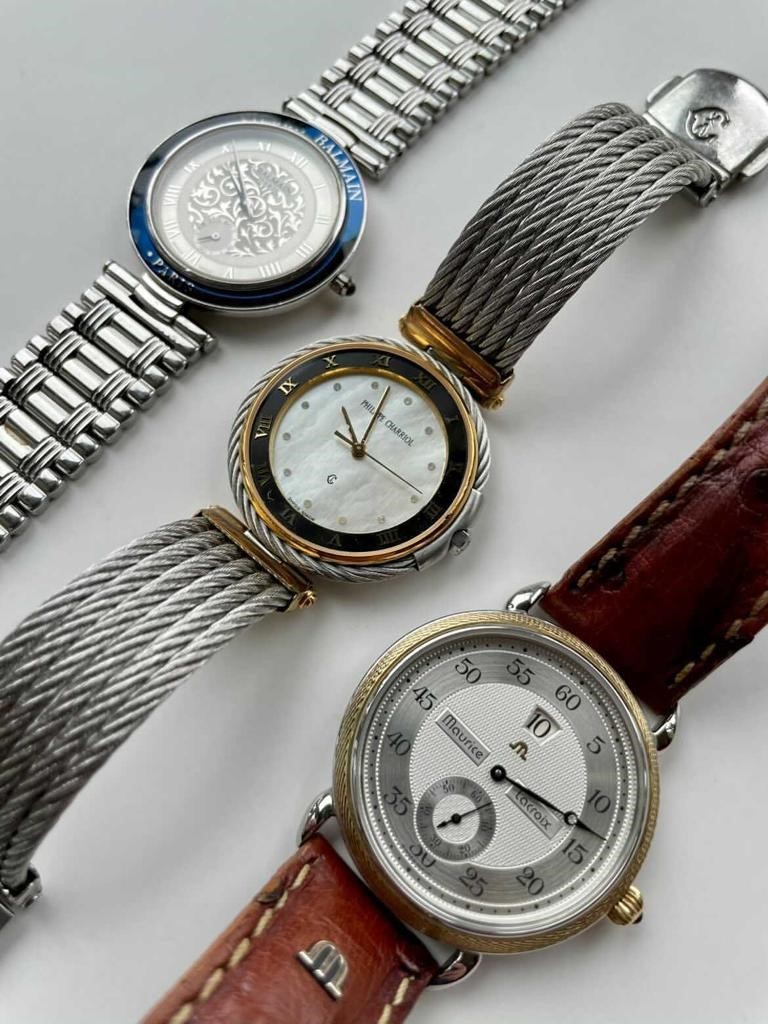 Photo Courtesy of @clueless_collector
TC: What was the first watch you bought for yourself?
@clueless_collector: The first watch I bought for myself was a Pierre Balmain dress watch. It cost 580 Singapore Dollars, a significant purchase for a teenager at that time as I spent all my summer job money. A few months later I bought a Philippe Charriol with a mother of pearl dial for 1,200 SGD. Both were quartz watches. The same year I also purchased my first mechanical watch, a Maurice Lacroix Jumping Hour for 1,350 SGD.
I choose them because of fashion and that they would match well with a suit and nice shoes. I liked designer watches as they were fun. Today I'm more distracted by my current collection, but those three pieces still hold great emotional value, reminding me how my hobby started in my youth in Singapore.
TC: How did your collection move on then in Singapore before moving to the States?
@clueless_collector: Yes, my collection started before the year 2000. I own a Montblanc and Hublot. The Montblanc Masterpiece is from 1999 and only 1924 pieces were made. The Hublot I own is the Classic Fusion with a Dragon cover, released in 2000 for the Millennium Year of the Dragon.
This watch is one the most special ones for me in my collection. My girlfriend at that time and now wife bought this piece for me. Only 100 pieces with very fine carving were made. Hublot destroyed the tools to make it even more limited. This piece kind of sealed the deal for her and me and will never leave my collection.
Photo Courtesy of @clueless_collector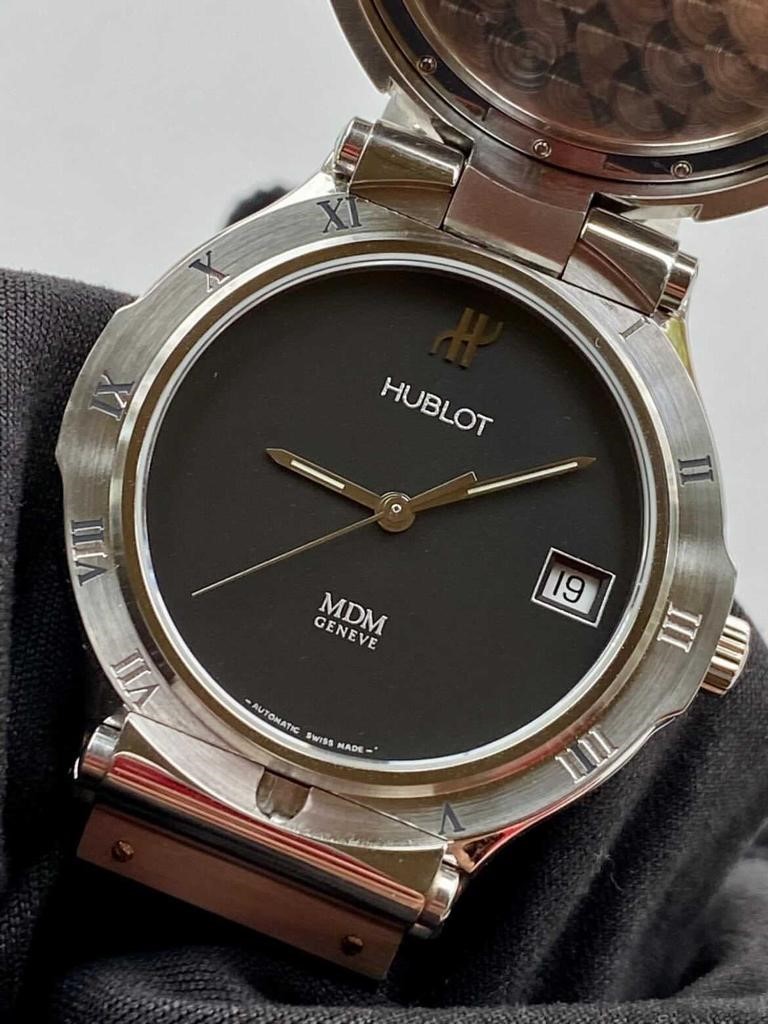 Photo Courtesy of @clueless_collector
TC: How did you start collecting in the States?
@clueless_collector: I did not have a core strategy on how my collection would be in 10 years. I initially did not study extensively about watches. For me it was just important to own pieces that spoke to me and that I liked. Funnily, the purchases I initially made were because I felt that they were a good deal. Discounts were some of the main drivers for me. In our culture the feeling comes "oh if I don't buy it now, I will lose out". Today one understands that they are discounted for a reason. This is also how I got my first Rolex, a Cellini Prince. One of the few Rolex where you can see the movement.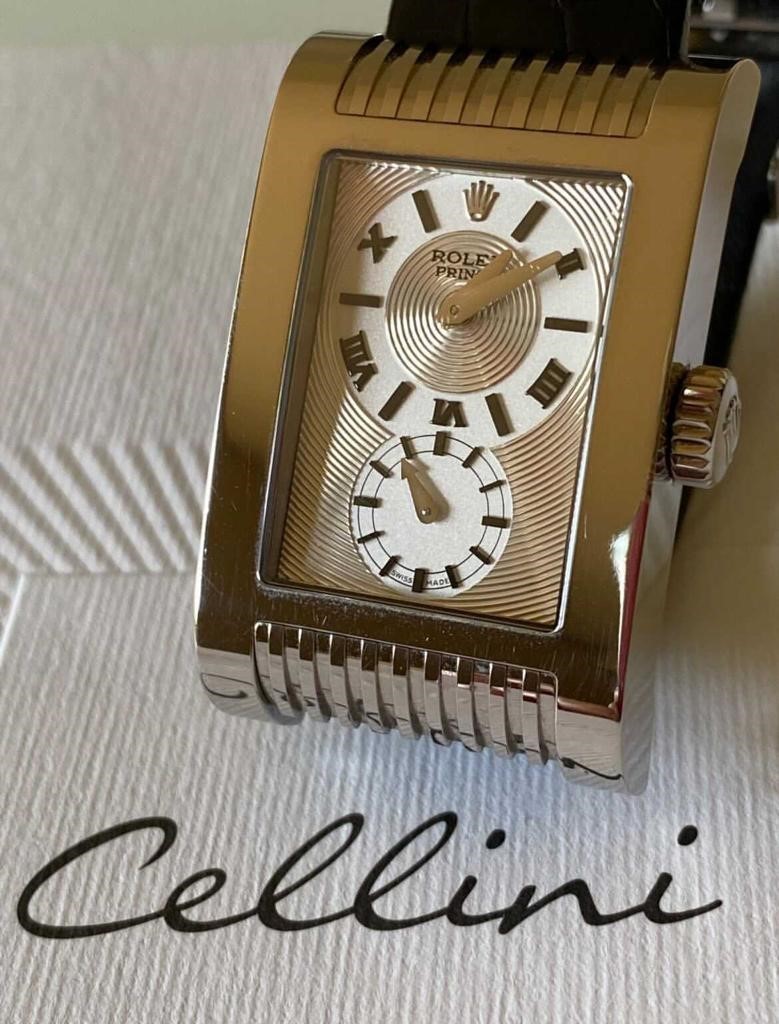 Photo Courtesy of @clueless_collector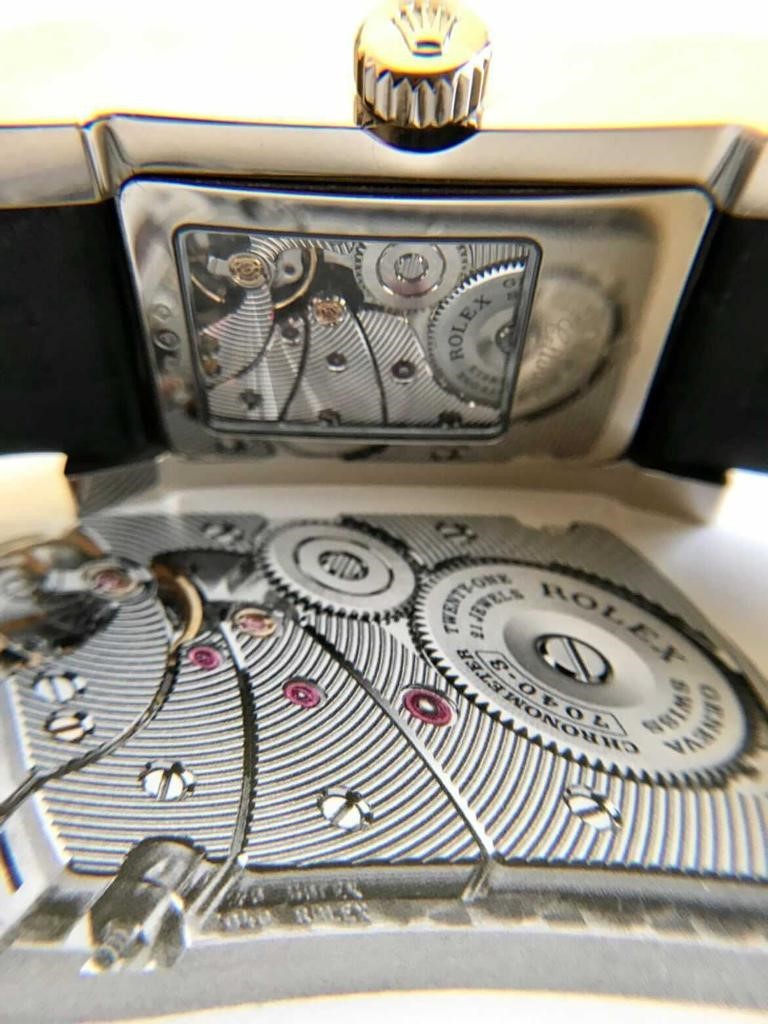 Photo Courtesy of @clueless_collector
TC: When was your first significant watch purchase?
@clueless_collector: I remember that very well. That was in June 2014, a Patek Philippe Nautilus. One couldn't imagine that today, in that year you could still see them in the displays. I was on a cruise in the Caribbean. I was calling around dealers as I was interested in the 5711 with a blue dial. Who could resist a Gerald Genta design and looks as cool as on Brad Pitt. So I found an authorized dealer in Saint Maarten – @jewelsbylove.
They were willing to allocate me a 5711 as a gesture of a first business relationship however recommended that I should get a complication. In the end I purchased a 5726 and got a 5711 with the white dial for my brother-in-law. Looking back I sometimes regret that I did not get it but one has to move on and be content and satisfied with what you have.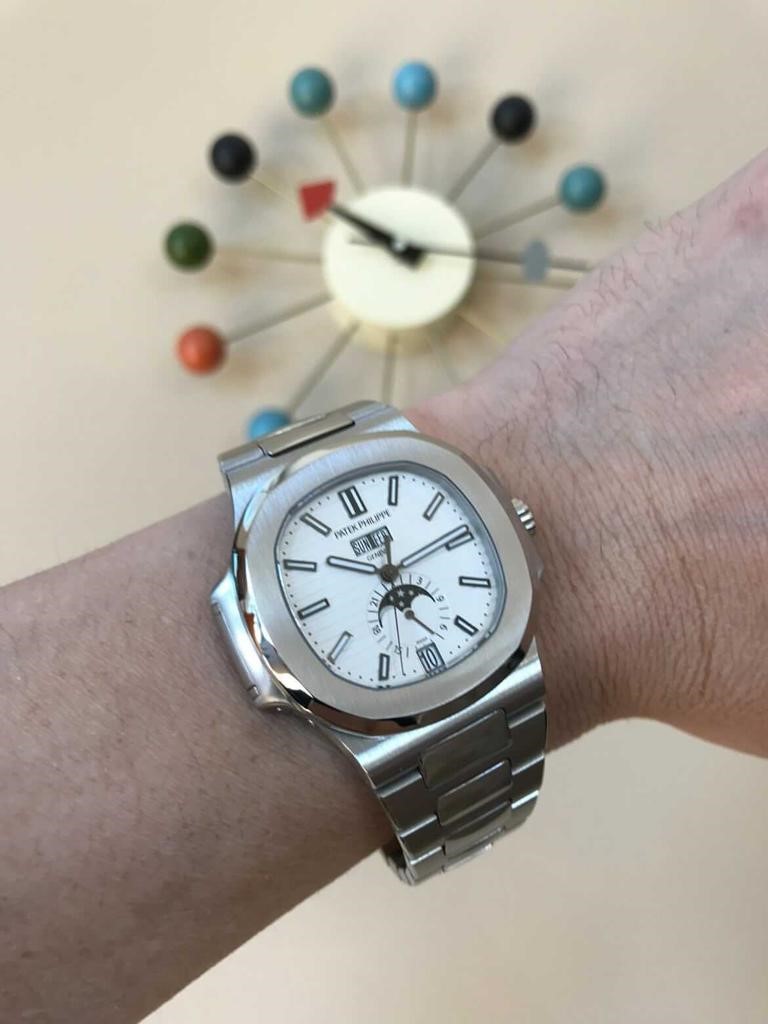 Photo Courtesy of @clueless_collector
TC: How did you learn more about watches?
@clueless_collector: My first Patek purchase also started my journey of getting deeper into the collectors circles and learning more about the details. Exchanging experiences with other collectors brought me to the next level. This also kickstarted my collecting journey with Rolex. I was initially hesitant with Rolex and didn't want something that everyone wears. However the collectors' circles taught me how good those pieces are, how solid and precise. In December 2014 I then bought my first Daytona.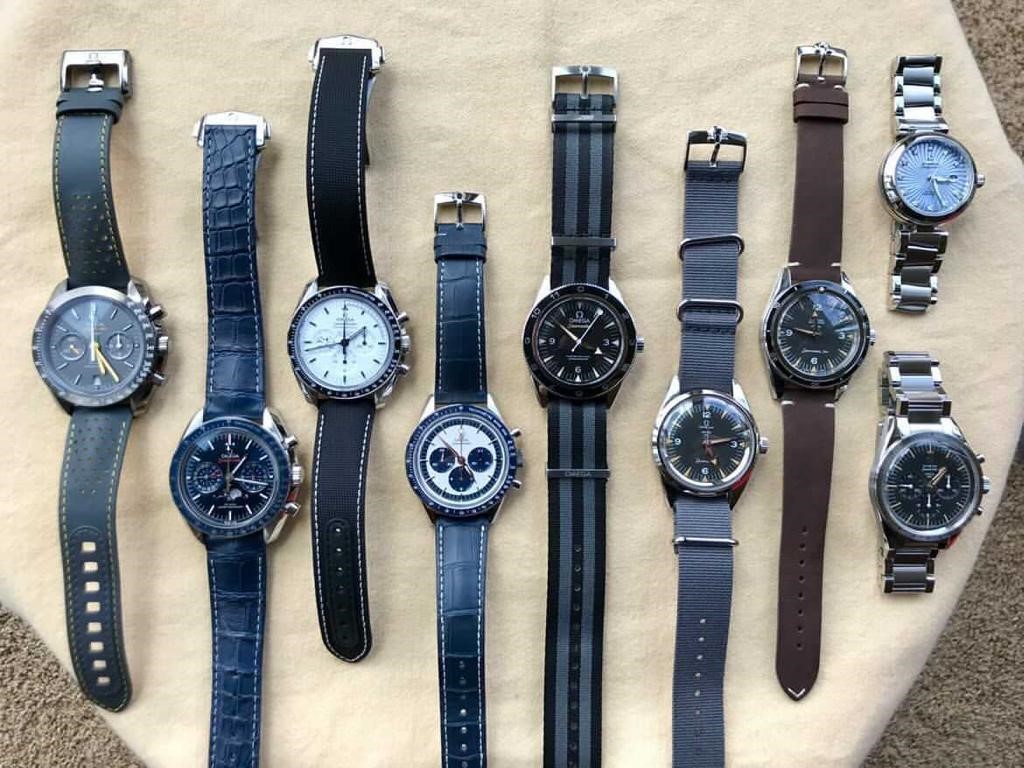 Photo Courtesy of @clueless_collector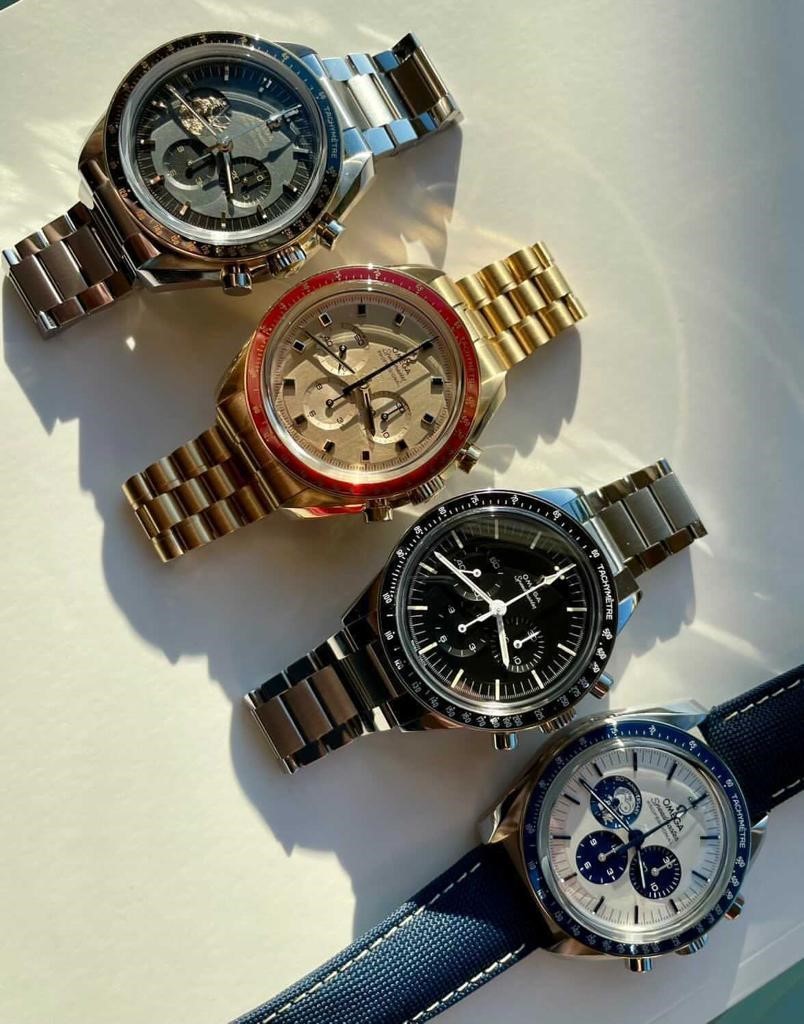 Photo Courtesy of @clueless_collector
TC: What other brands did you follow then?
@clueless_collector: I got interested in Omega. My first Omega was in 2015, the one Daniel Craig wore in Spectre, with a NATO Strap. Every guy wants to be like James Bond. This one really caught my eye, it was super cool. There were only 7007 pieces made. I was lucky to get number 777, which was originally allocated to the producing family of James Bond.
The same year I got a Ladymatic for my wife and in 2015 also a Snoopy which was sold out everywhere else. My Omega collection increased quite a bit. I also purchased the trilogy set and got the numbers 333 out of 557 sets and the Apollo 11 50th anniversary pair.
Good relationships with dealers are important to me. The same Rolex dealer also recommended me to buy the Batman and Hulk, in which I was initially not interested in, however now I am very happy to have purchased them. That is why I call myself probably "Clueless Collector". The watch collecting scene today is pretty crazy, I don't know what's happening, I just follow the pieces I like.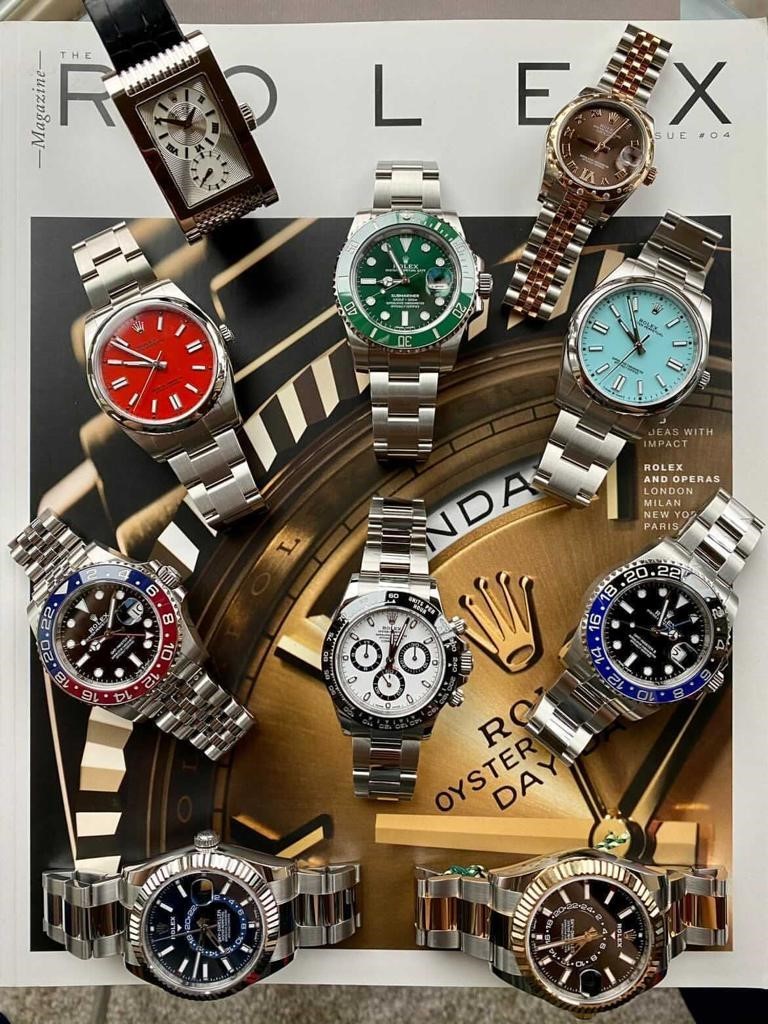 Photo Courtesy of @clueless_collector
TC: How did your wife appreciate your hobby?
@clueless_collector: I'm really blessed and so happy. She supports my crazy hobby but of course nicely nags sometimes about my collecting habit. My wife, son and myself often aim to share watches and wear matching brands when going out. It became a passion and joy to share it among the family.
Many brands today produce uni-sex watches, it's a great idea that you can purchase a watch for two people. I have bought a lot of watches for my wife, one of the last pieces was a Patek Aquanaut Lady 5067A and 7234R from Tiffany. The Tiffany Dial is something special, you can request it but they don't always come. When I was offered it, I immediately said yes.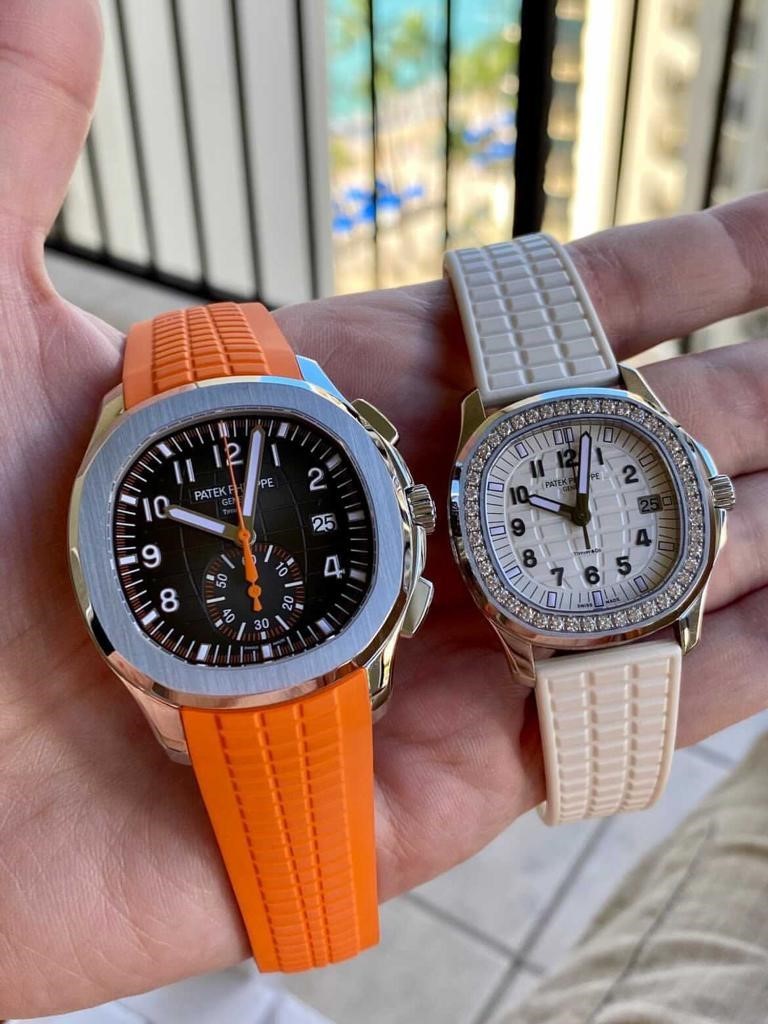 Photo Courtesy of @clueless_collector
Photo Courtesy of @clueless_collector
TC: Do you also share that hobby with your son?
@clueless_collector: I try to. In fact he has his own watch box. His interests come and go, when he was younger he got a toy watch on every trip. Now in his teenage years he is not that much into it, however I'm sure it will come back in the future. He likes some of my pieces that he occasionally wears, one would be my Omega Master Chronometer Moonphase in Stainless steel. I gave him my Girard Perregaux Laureato Evo 3 as a gift.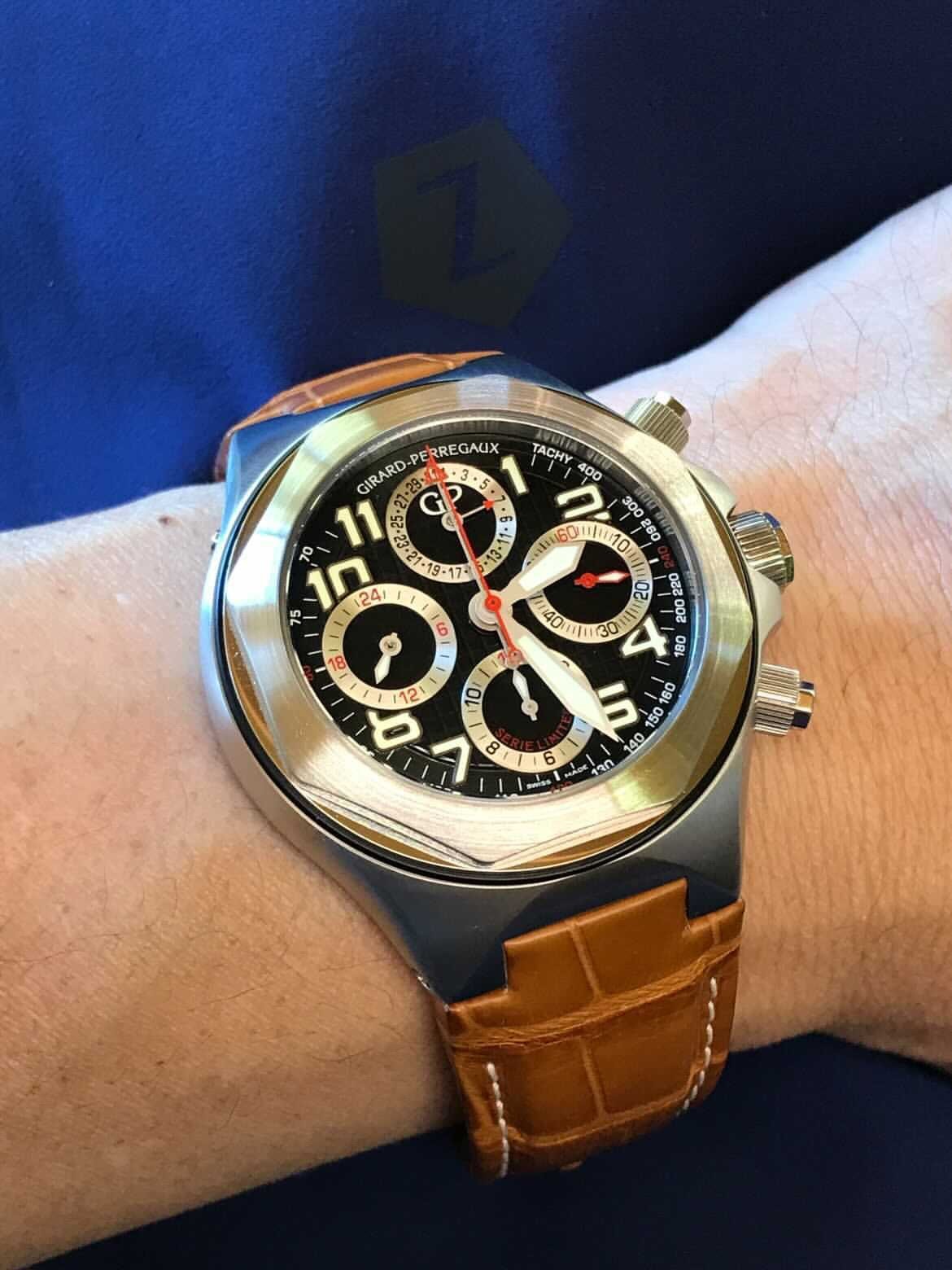 Photo Courtesy of @clueless_collector
TC: What is your philosophy when collecting?
@clueless_collector: You notice I have Rolex, Omega, Patek and Lange. I feel I want to have the best pieces of each of those brands, getting the creme de la creme. To be honest I don't have a standard moon watch, I like to buy something that is exclusive and limited. Lange makes such nice movements, the craftsmanship is just out of this world.
TC: How did you get into Lange & Söhne?
@clueless_collector: I have around 9 Lange & Söhne pieces. The first Lange & Söhne I got was in 2015, a 1815, which they released for their 200 year anniversary. I initially wanted to purchase it on a holiday in Dubai however it was sold out. When I got back to the States I called around many dealers and found it in their boutique in Miami, with which I then established a long-term relationship.
The following year Lange invited me to Lake Como to the Concorso di Eleganza, an exclusive car show. I was overwhelmed by the treatment looking at the watches and the cars. This connected me more to the brand, which I appreciate. When I came back, I bought the Lange 1 Timezone. I was lucky to be one of the first to also get the Odysseus. I don't prefer redundancy. I want to have different looks and functions.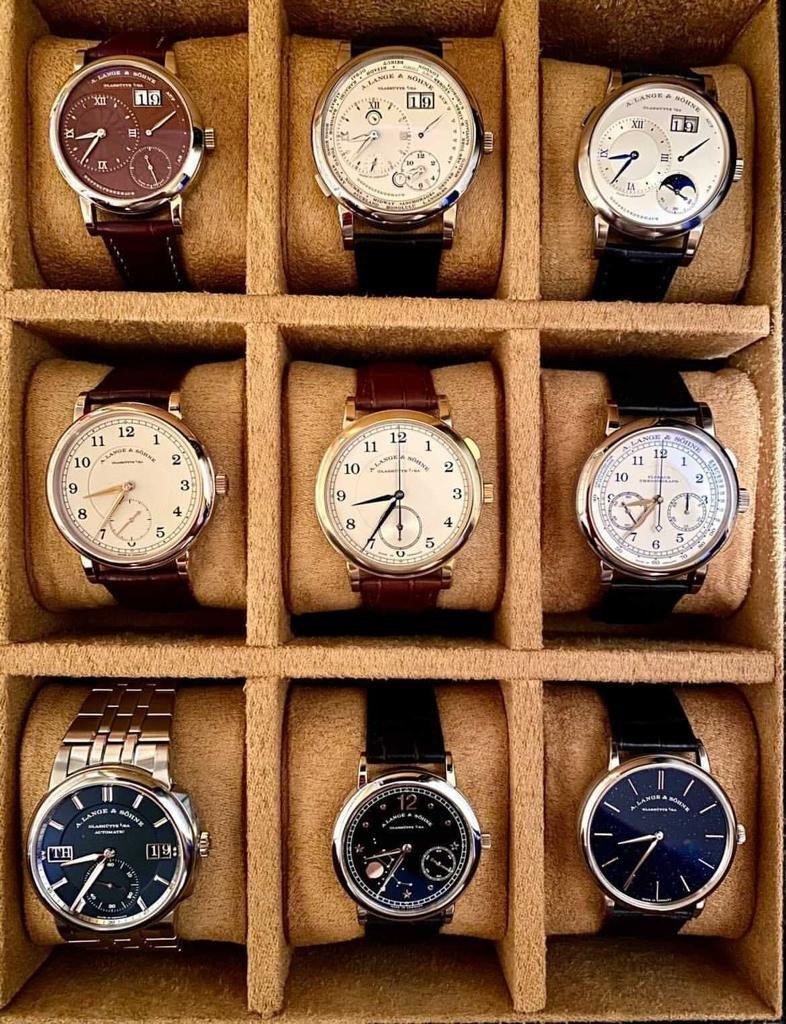 Photo Courtesy of @clueless_collector
TC: Is there a Holy Grail?
@clueless_collector: Since a young age I wanted to own a perpetual calendar, I was always fascinated by them and how they function, how a watch can tell moon phases and leap years. I don't know yet which one to get, I'm considering a Patek Philippe or Lange & Söhne next year. If it comes, it comes, I don't need to have it now. To me watches are a hobby and accessory, not a must have. I'm even considering consolidating.
TC: Are you interested in microbrands?
@clueless_collector: I recently successfully got an order for a Kurono Chronograph 2, which was released in February. I'm looking at a few. I'm a bit concerned about the microbrands in terms of longevity and serviceability. If some of those artisans are not there anymore, who would service these watches? This is one of the main reasons why I haven't yet stepped into that field. There is great interest, the prices for some of those pieces are however crazy. There is too much money in the market right now, suddenly everyone is a collector, I just don't understand. I'm playing safe.
TC: Are there other brands that you have recently been interested in?
@clueless_collector: Recently I got a Chopard. This year during Watches and Wonders Chopard released their LUC Chopard Jubilee in Stainless Steel. 25 pieces for the 25th anniversary. On April 2nd, I read about it for the first time in a few blogs and via links wanted to buy it on their website. However it was not available. By chance on April 9th, I woke up early and browsed the website again and the watch showed up on the website. I added it to the cart and ordered it. Right after the watch became "upon request". I felt so lucky that I got one. Later the E-Commerce Manager of Chopard contacted me saying that it would be very strange as the watch was not supposed to be on the website but rather allocated to different customers in boutiques.
After a few discussions internally they contacted me again, allocated one and welcomed me to the Chopard family. It felt like a nice gesture and I felt very happy that they honored their E-Commerce sale. I will surely honor that relationship and look more at these.
TC: Looking at your IG Account, how did that start?
@clueless_collector: My first post was in 2018. For me it was just another platform to play around. Initially I did not post a lot, now it has become kind of a habit. Sometimes I think I want to cut back. If I post, I want it to be something meaningful and useful and be helpful to fellow collectors. I enjoy sharing knowledge and insights.
TC: What advice would you give younger collectors?
@clueless_collector: I think you need to think about how your collection should look in the end. Don't just buy according to discounts and trends. Begin with the end in mind, one of the 7 habits of highly effective people. Think carefully what your collection will look like and work towards that goal. Don't just buy because it's a fear of missing out. Collection is about exclusivity, you want to collect something that is special to you. Why would you like something that everyone has? And be nice to sales people and honor relationships.
TC: Are you planning to pass on your watches to your son?
@clueless_collector: If he has an interest then for sure. If not, then I might someday just consolidate them for a bigger piece. My dream watch would be a perpetual calendar chronograph. I'm thinking about a 5270, 5970 or Langematik Perpetual Chronograph. I'm not into Minute Repeater or Tourbillon today, however who knows how my taste will change in the future.
TC: Is there anything else that you would like to share with us?
@clueless_collector: I'm very happy with my current collection. I feel that at some point, this collecting hobby has to come to an end. In Chinese culture we believe in faith. You only live once, don't ever regret, you should try everything. I always tell my wife, I'm so happy, I'm ok to go anytime. That's how I live my life. I like to be like water, it conforms to every shape, it's flexible and powerful.