From Taichung, Taiwan, Henry currently works in a trading company, he is the founder of "Henry Lin " Youtube channel (I am Henry Lin) and Facebook group ("Henry's Watch Bus"). After graduating from university, Henry started working as a sales assistant at a watch shop where he successfully mastered the business years later. Since then, he started a community with a passion for watches and now it is growing quickly in Taiwan.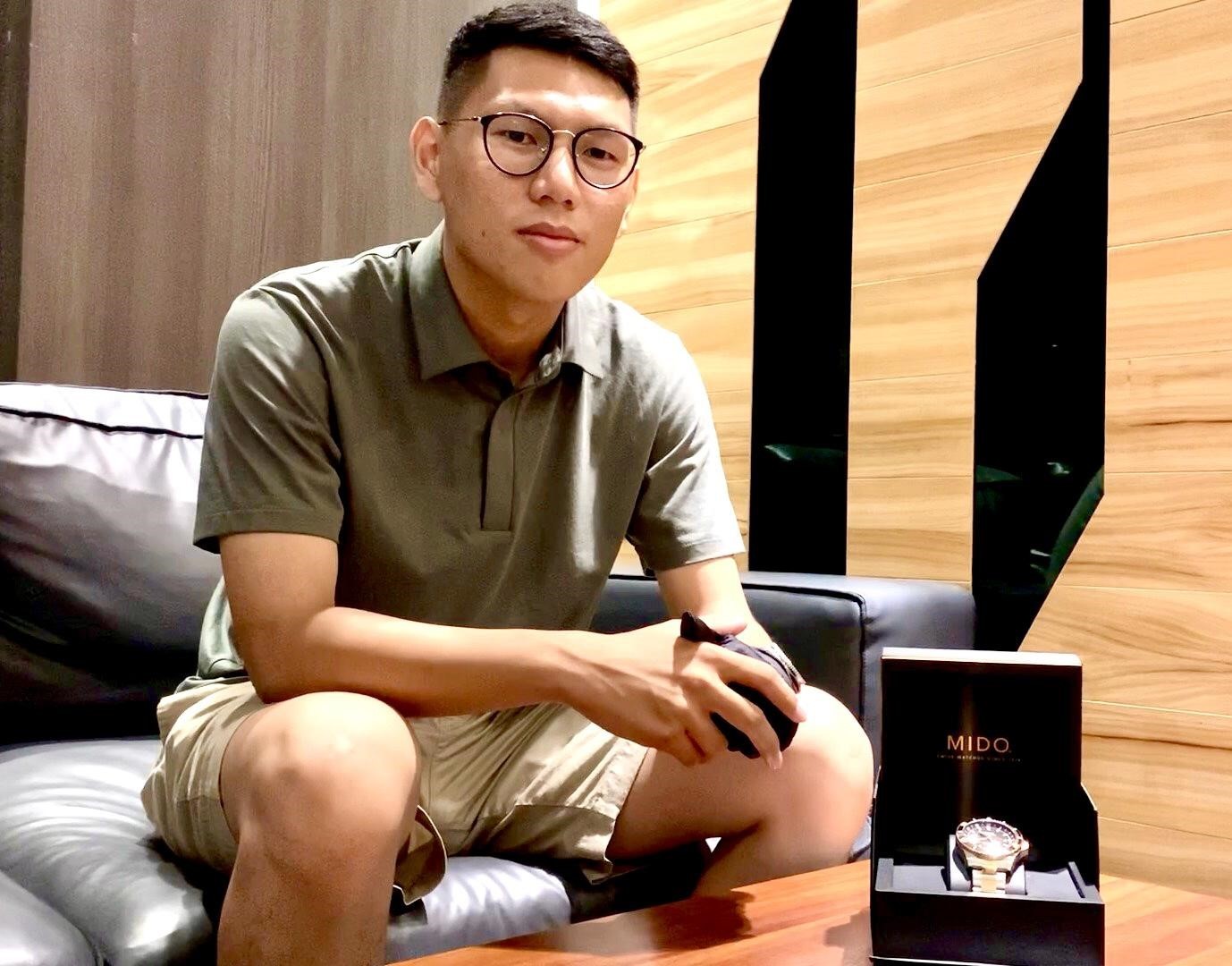 Henry, Photo Courtesy of @henrylin.01
Working in a Watch Shop as a Student, the Beginning of the Watch Journey
TC: Hi Henry, what is your current job and how did you move into the horology field?
@henrylin.01: I am currently working at a machine trading company although it is not directly related to my watch interests. If you want to ask me why I am doing this, I'd tell you it's because of the amazing moments when machines can run when parts are assembled. It is as fascinating to me as watch movements.
However, the main reason for my strong interest in watches would be from working at a watch shop. After graduation, I worked as a store assistant for more than a year until my boss discovered my sales and business acumen and offered me the role of watch salesman. I often had to communicate with watch technicians about the maintenance of customers' needs.
I had the opportunity to learn extensively about watch movements and continuously built my knowledge. I quickly realized that movements are what attracted me much more than only the appearance of a watch. I always find it incredible whenever a technician removes a part of the watch. You are able to see each little part and the art of craftsmanship, every single gear and component must match each other perfectly. I admire how such a sophisticated composition can run for so long in such a small case..
TC: What was your first watch?
@henrylin.01: My first watch was a blue Casio. Unfortunately I don't remember the model anymore. After working at the watch shop, I started to look for mechanical watches. Generally, a beginner would start with a Logines HydroConquest or an Oris Aquis at a similar price. I also wanted a mechanical piece at an entry price with a special history. It happened that I had a very close high school friend who was also very much into watches. He recommended TAG Heuer, which has a close relationship to the racing car history. I appreciated the look and the stories so it became my first out-of-pocket watch.
*The romance of car racing: In 1963, Heuer launched Heuer Carrera, a chronograph that demonstrates the romance and excitement of racing. Jack TAG Heuer named the watch after the "Carrera Panamericana" race across Mexico held between 1950 and 1945. The powerful angular lugs of the Heuer Carrera conveyed its strength, and dials were available with scales for tachymeter, decimal minutes or pulsometer. Heuer Carrera comes with triple calendar models, cases in steel or gold, suitable for the track, sports or styling.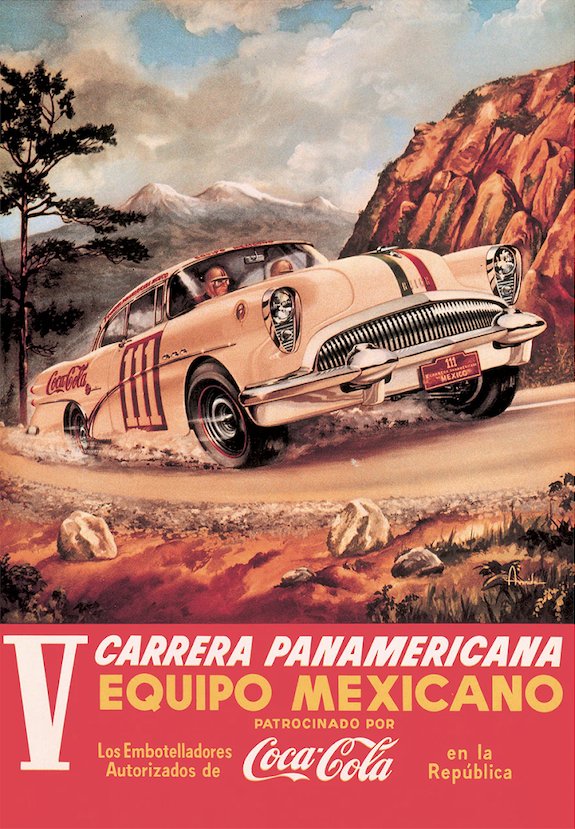 Carrera Panamericana, Photo Courtesy of TAG Heuer
TC: Which watch do you particularly have memories with or connected with?
@henrylin.01: After TAG Heuer, I bought a Frederique Constant with an elegant leather strap. I kept it for the longest time with me. I like watches with a big date window, this watch happens to have it along with its colorful movement, it completely matches my aesthetics. I bought it as soon as I found it on the internet.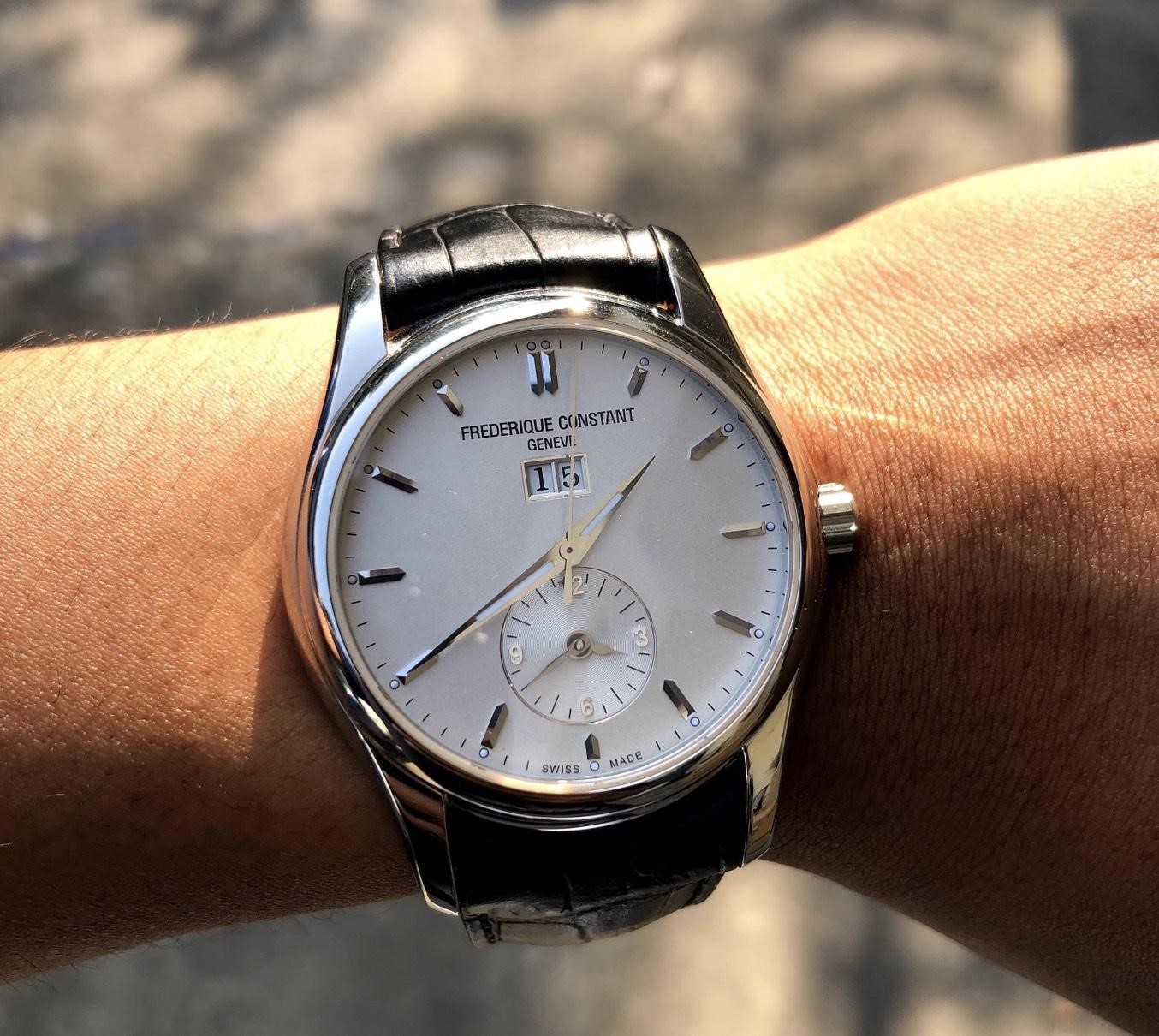 Frederique Constant, Photo Courtesy of @henrylin.01
Creating through Social Media, from YouTube to Developing an Online Community Ecosystem
TC: Do you often create videos? What made you want to share knowledge about watches through a YouTube channel of your own?
@henrylin.01: Actually, I didn't know how to make videos in the beginning. It was because of my huge interests in watches, I wanted to share the knowledge widely through various media platforms so I started learning how to make videos. In early 2019, I began to share my in-depth views on YouTube. Sometimes I am not that familiar with the topics that my audience wanted me to cover, I'd collect their questions and provide a summary video with easy-to-understand opinions and analysis of mine. I plan to also share more historical stories of watches, special collections and other interesting content soon.
Henry's Watch Introduction Video | Avant-garde Style, Bold Design! A Super "Oriental" Brand Name! After Learning, You Will Also Fall in Love with Corum Watches.
Last year (2020), I decided to expand my sharing to Facebook because Taiwanese watch communities still mainly communicate through Facebook Groups with a large number of fans. However, many of the participants there are professional watch collectors who share information about higher-level watches. I wanted to create a space where anyone can join whether they want to share entry-level Seiko or high-level mechanical watches, anything they want. This idea was born because many watch-lovers have expressed concerns to me that they are afraid to share their not-so-advanced watches with the community. I think it's a pity to feel hesitant merely because of that reason. Whether it is a digital watch or a luxury watch, they are just watches, so I created a group for everyone to speak freely and learn together.
What's more interesting is that our Facebook Group members shared not only about watches, but also their professional knowledge. For example, one is a master steelmaker, he would share information about Rolex 904 materials, teaching us how to analyze and differentiate it from ordinary steel. We learned how to repair the worn watch or what material to use to avoid crashing your watch. These are the added values that I have never thought of when establishing the Facebook Group.
*Read-around: "When did Rolex start using 904 steel to make sports watch cases such as Submariner and Daytona?"
https://www.world-wrist-watch.com/zh-Hant/Article/7706
TC: What is the age range of your watch community? What kind of occupations do they have?
@henrylin.01: The range is quite big but mainly males between 20 and 50 years old. I once had an 18-year-old ask me which watch he should buy as his rite of passage gift. I still want to create a community without age and gender restrictions, a community that shares whatever you want.
TC: Your community is growing really fast, what are your thoughts or opinions on managing such a community?
@henrylin.01: I don't think I am a great community manager, there are too many people who run it much better than me. My initial intention was to be able to interact with people online so I often organized online events such as lucky draws. Later, many members wished to have more offline events in order to meet other enthusiasts in person.
Therefore, last October, I held the first offline watch gathering at the Taichung Headquarter, and about a dozen people came. Initially, I was very worried about whether the event would go well, if the atmosphere would be welcoming enough, then I found out it was unnecessary. As soon as the watch enthusiasts met each other, we had endless conversations. The next offline event was held in Kaohsiung, our southern Taiwan members were very happy about it. I started planning an event in northern Taiwan this year but had to pause it due to the pandemic.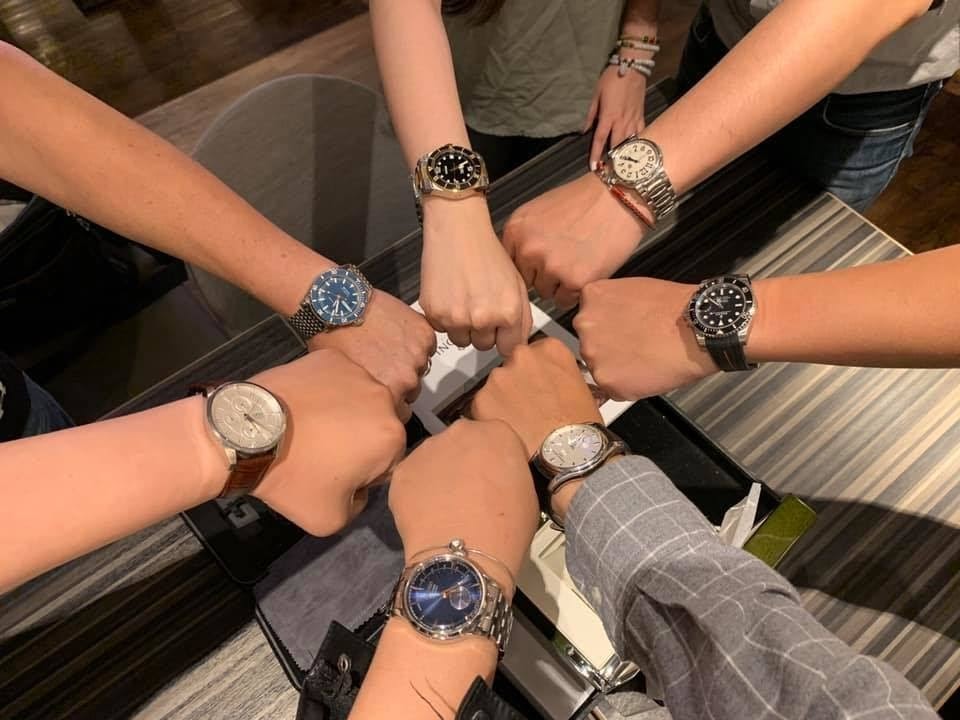 Watch Gathering, Photo Courtesy of @henrylin.01
[Wrist Times Club Watch Event] Watch wrist shots and experience sharing.
TC: What are the biggest differences between online and offline events?
@henrylin.01: Most of the online interactions are questions and answers, whereas offline events you could chat with each other about anything, such as work and professional topics. Many of the watch enthusiasts became really good friends after participating in offline events.
TC: What do you think are the distinctive features of the Taiwanese community?
@henrylin.01: I think Taiwanese people pay a lot of attention to what effective results the brands can bring to them. Or more generally, in the Chinese culture, we think the added value is very important. For example, wearing Rolex and Omega means you have a better social status or taste, you can also make friends with people in this social circle. As for mid-market brands, people value its cost-performance ratio, such as which movement this watch uses and whether other competitive products have better specifications.
I also think Taiwanese collectors attach great importance to watch colors. Blue, green, black and white are popular colors in Taiwan, they are also seen as relatively younger and more sportive.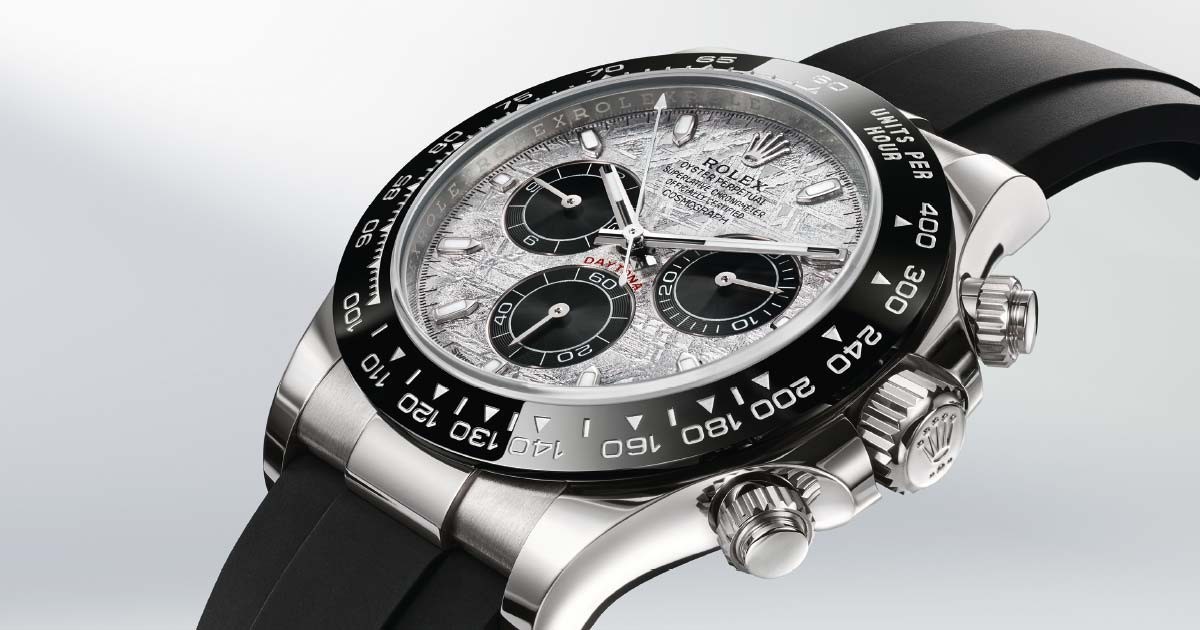 Rolex Daytona Chronograph, Photo Courtesy of Rolex
TC: What are your expectations for your "Henry Lin" community?
@henrylin.01: The short-term goal is to organize more offline events, 4 to 5 events a year, to increase opportunities for watch lovers to interact and exchange thoughts, most importantly make friends. As for the expansion of the community, I have no specific expectations at the moment, I think we already have a sufficient number of members. As long as I am able to share my knowledge and resources, I will achieve my goal.
TC: What do you think about collaborating with brands?
@henrylin.01: I think fondly of it! A while ago, Titoni diver's watches were very popular, were almost unavailable on the market. For my offline watch event, Titoni had lent me two divers watches and other models. Our members were very surprised and happy because it was very difficult to find them on the market.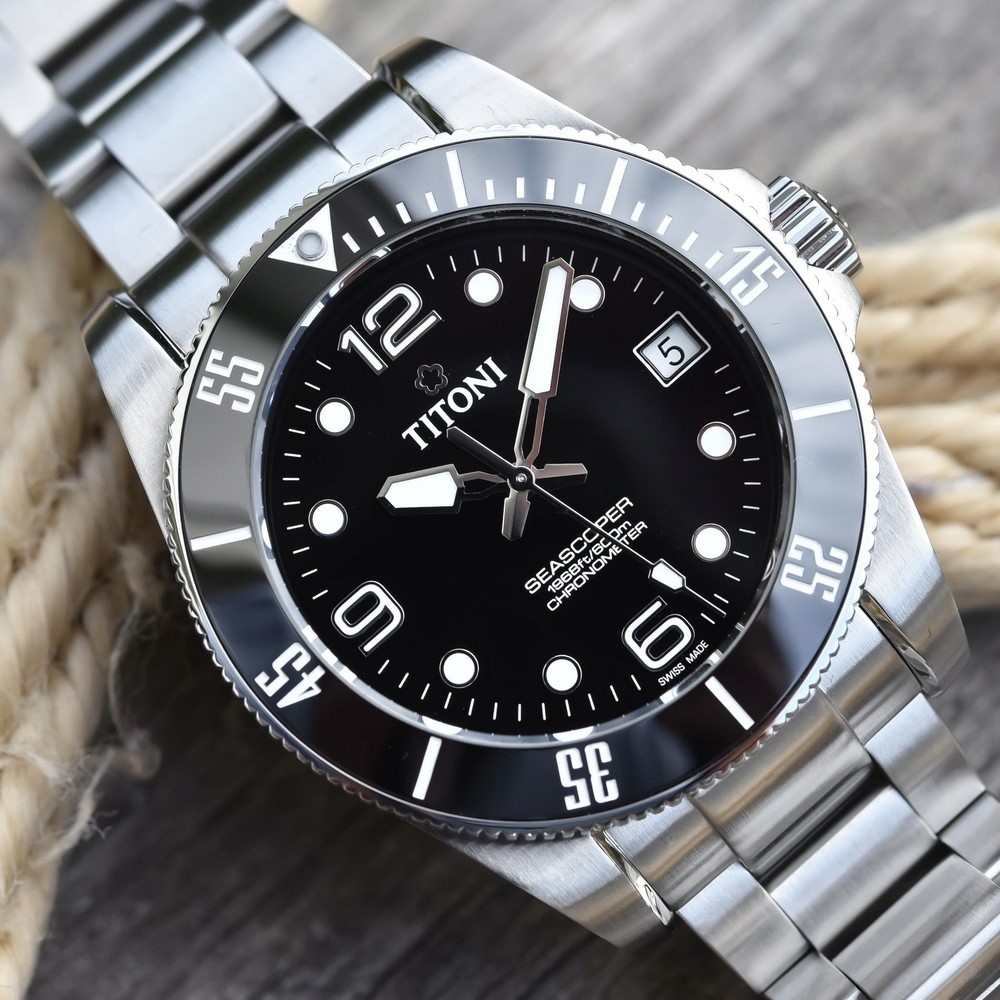 Titoni Seascoper 600, Photo Courtesy of Titoni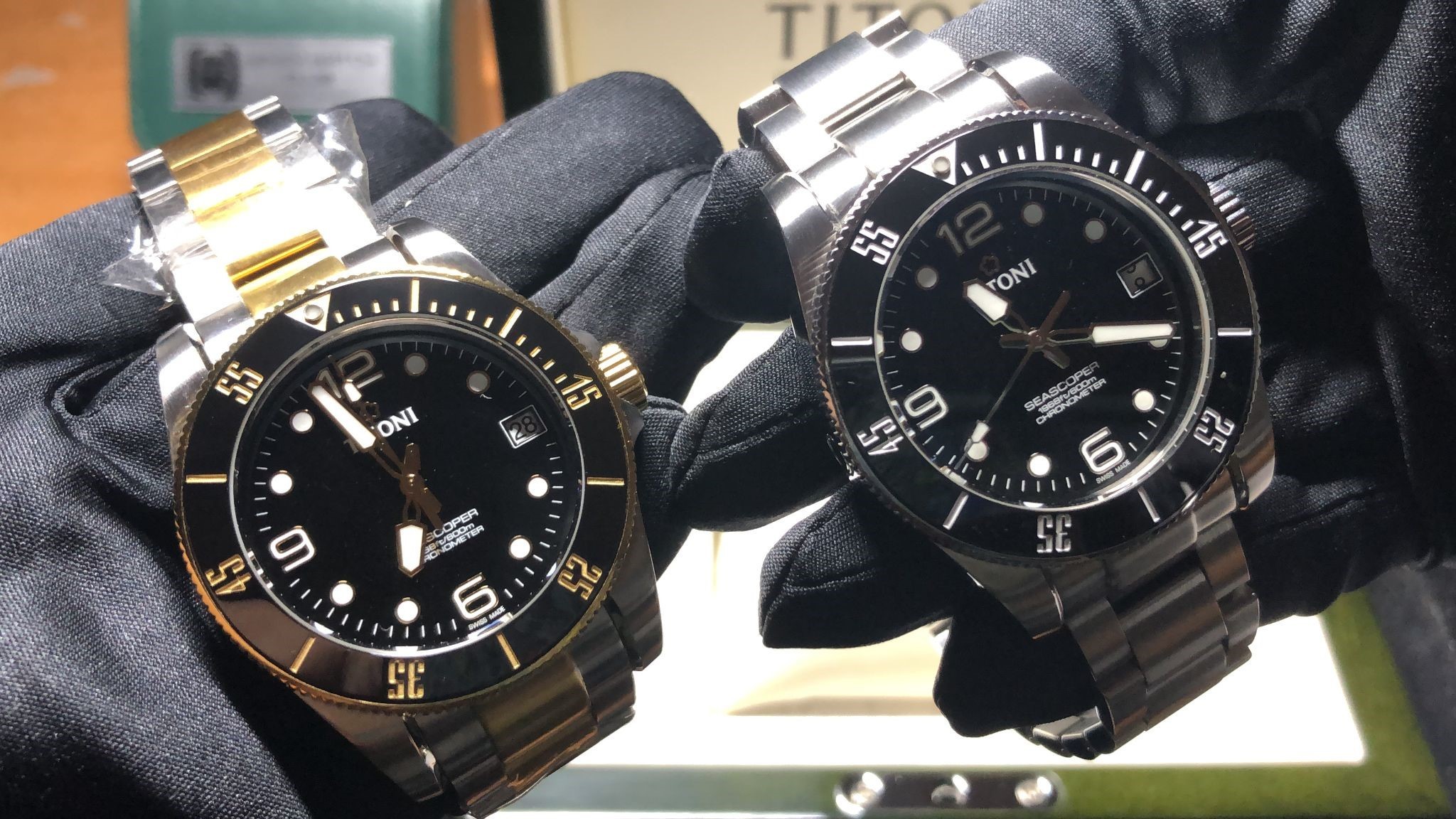 Titoni Seascoper, Photo Courtesy of @henrylin.01
TC: What has been the most interesting thing working with brands?
@henrylin.01 It is very interesting to be in touch with brands. At first, I had a certain impression of brands, for example, the big ones must be less friendly with strong commercial purposes. After communicating with them, I found that we are all here purely because of our passion for watches. They would lend me some pieces for video-making and gave me full creative control over these types of promotional content.
Integration into Global Community, Taiwan's Watch Trends and Dynamic
TC: How do you usually consume watch information?
@henrylin.01 Mainly through Facebook group communities, you are able to get information right away. For example, which watch brand released a new model, how much the price is and how much it has gone up. I also get the latest news from former colleagues at the watch store.
TC: What information do you want to see more on Taiwanese media?
@henrylin.01 Special content related to Seiko and Casio modification, or knowledge of distinction between real and fake watches. It is very difficult to tell nowadays, we will definitely benefit a lot if the media teaches us how to distinguish them.
TC: Tidlos Craft is committed to connect the watch world of the East and West, is there anything you would like to know more about Europe or the US?
@henrylin.01 I would like to know more about European and American collectors' collecting philosophy, what they value, which watch models they prefer and why some of them choose less mainstream brands.
TC: What is the future trend of watches?
@henrylin.01 I think brands like Rolex and Tudor will remain unshakable. Other brands have also adopted Rolex as their model, they are getting closer to Rolex in terms of design, appearance, material and color. As you can see, half of the market share of Swiss watches is taken up by Apple Watch, mechanical watch brands will have to produce watches with functions that meet the needs of the public in the future.
Because of the advancement of new technology, mechanical watches are no longer in the glorious era that we had 30-40 years ago. Whether the watch industry is a sunset industry or not, it is yet to be determined. However, it is very important to have new blood in the industry. Although in Taiwan, there are plenty of auto mechanic schools, it is a pity that we don't have a watch academy. I hope we will have it one day as part of education, just like Europe.
The Nicolas G. Hayek Watchmaking Schools, Photo Courtesy of Swatch Group
TC: What are the Asian brands that are worth knowing by Europeans and Americans?
@henrylin.01 Behrens Original, a cutting-edge watch brand jointly designed by Hong Kong and Germany. The triangular design of its Rotary collection is very impressive. I thought it was a Swiss independent watch brand in the beginning. The brand is not only unique in the look but also in the design concept that is closely linked to cars, with a very meaningful history.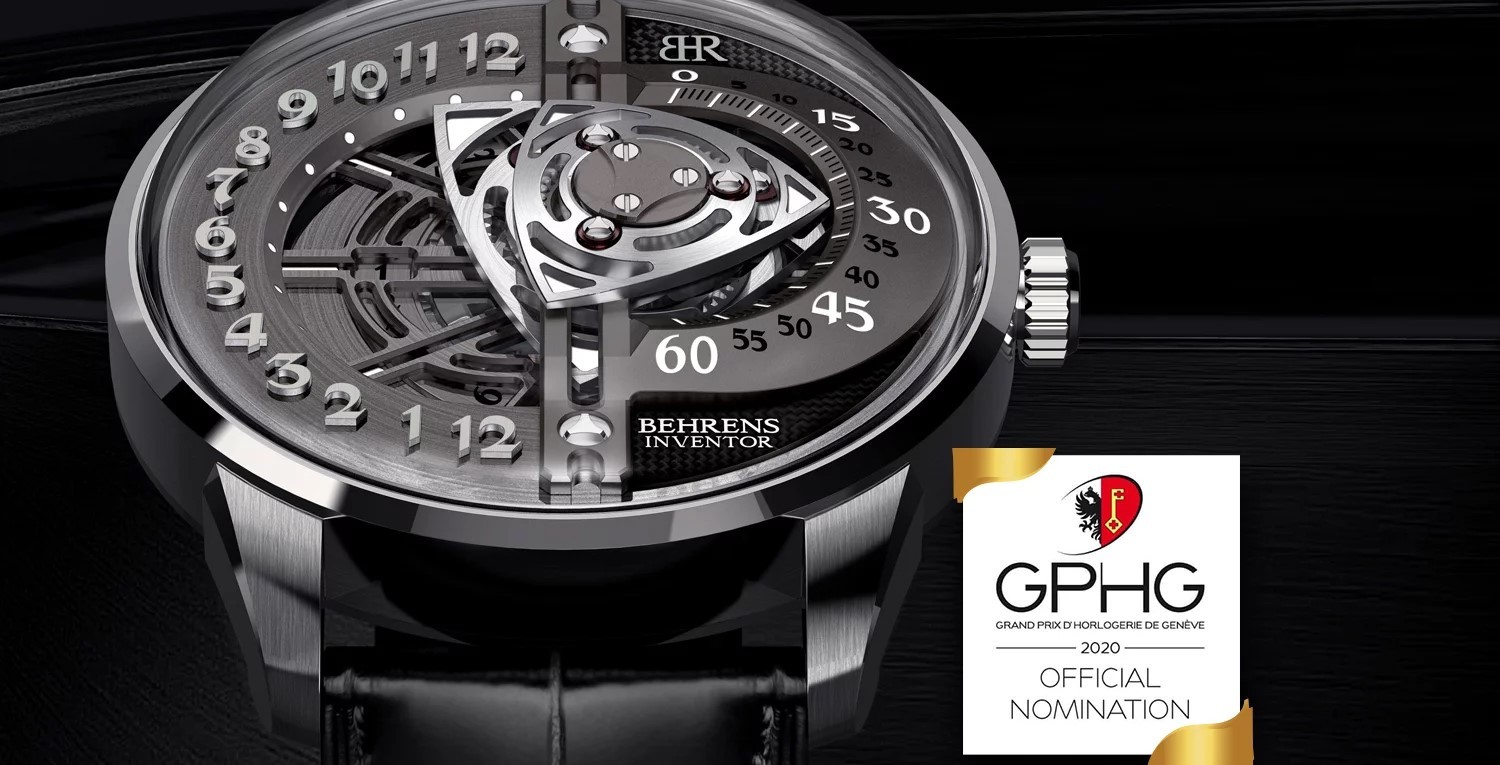 GPHP 2020 EDITION Nominated watch – Behrens Original – B022 THE ROTARY, Photo Courtesy of Behrens Original
Watch Collection Sharing
TC: Which watch is the most worn, favorite or meaningful to you?
@henrylin.01 My favorite watch is the Seiko presage SSA403J1, a model inspired by the glamour of the cocktail bar, with a blue radial pattern dial. It has an elegant look with a power reserve function, you can check the power level at any time. Additionally, Seiko watches are easy to modify. I am thinking of changing this strap to a Rolex Jubilee strap (Oyster Bracelets).
As for a holy grail, I would say Omega Speedmaster, it has a history of landing on the moon and has a practical chronograph. I even thought about buying it from Japan and refurbishing it myself.
Seiko Presage, Photo Courtesy of @henrylin.01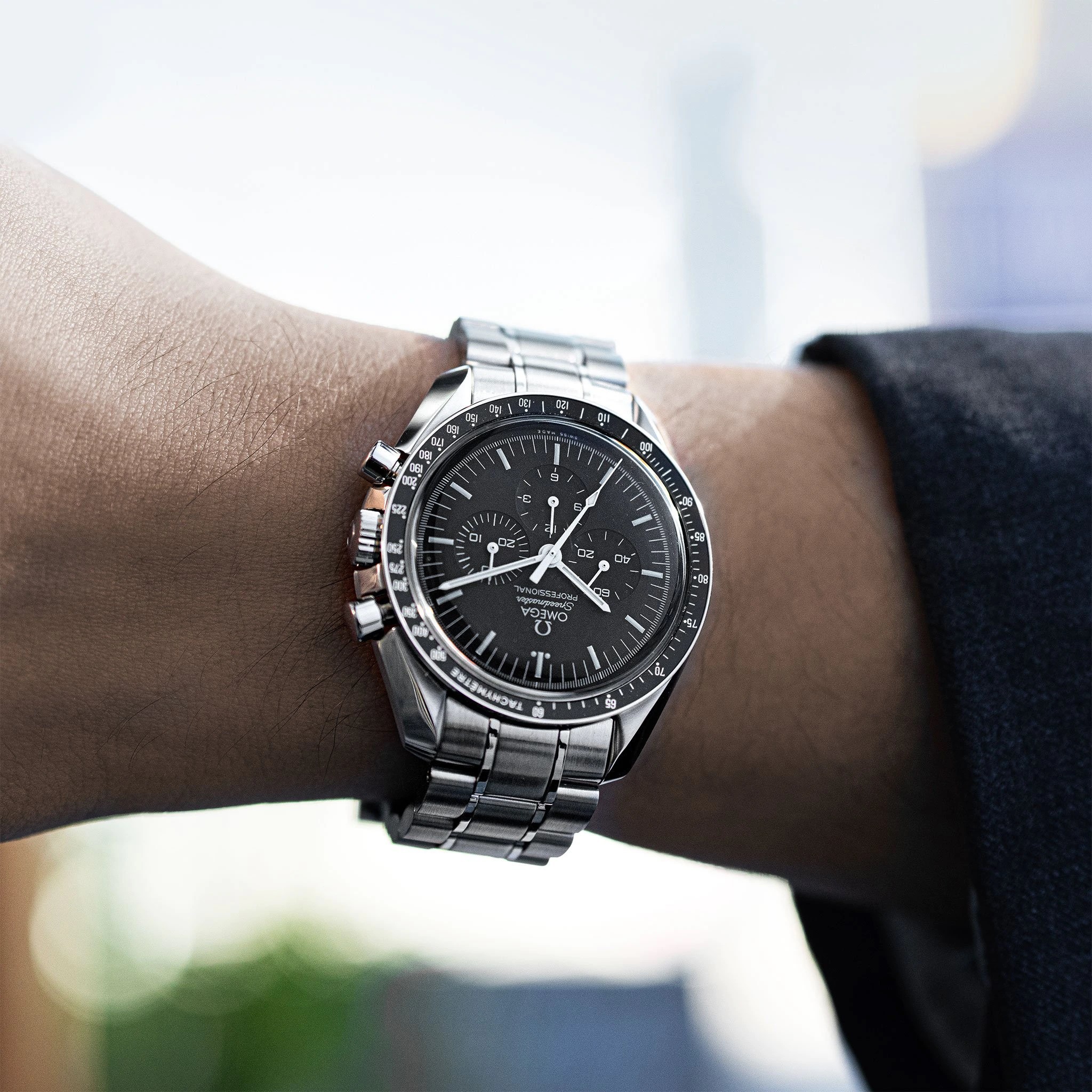 Omega Speedmaster, Photo Courtesy of Hodinkee
TC: Where do you usually purchase watches?
@henrylin.01 I normally go to a watch store since I used to work in a watch shop, I know them and I can get it directly from people I know. I usually only buy vintage watches on the internet.
TC: Are people around you also into watches?
@henrylin.01 In addition to the Seiko Presage, I also wear my Seiko Prospex. One day my girlfriend told me that she wanted a rose gold one because she wanted to match with me. I was very moved when I heard it because she didn't have the habit of wearing any watch. I didn't expect her to like it because of my interests.
Honestly, it is so great to have your partner's support in something you like, she even encouraged me to make more videos and would bring positivity whenever I doubt myself. I am really lucky and it motivates me.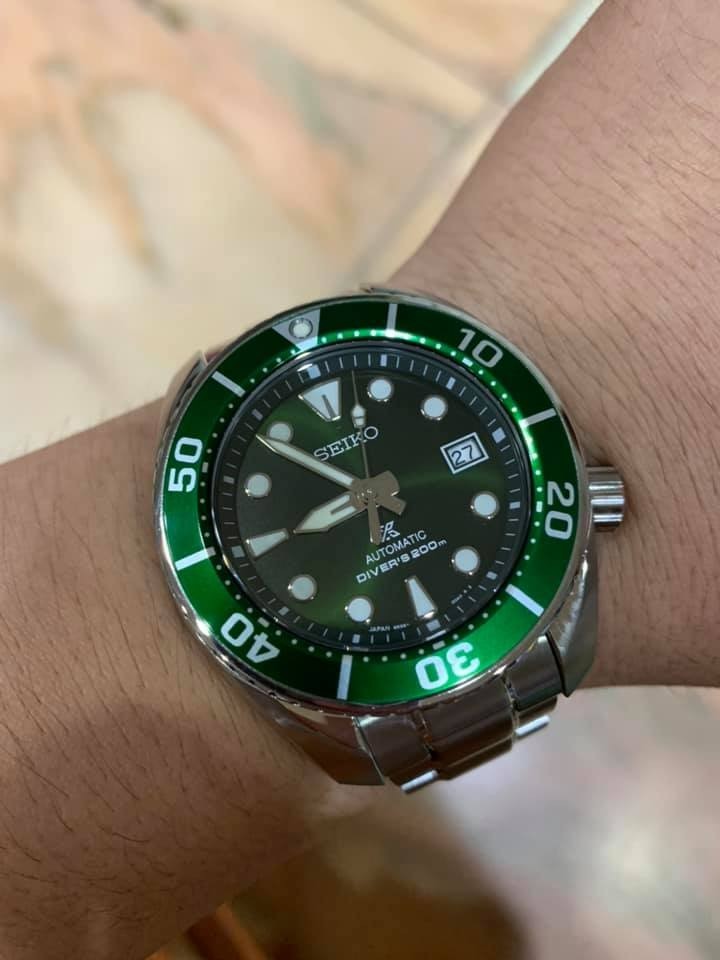 Seiko Prospex SUMO #SPB103J1, Photo Courtesy of @henrylin.01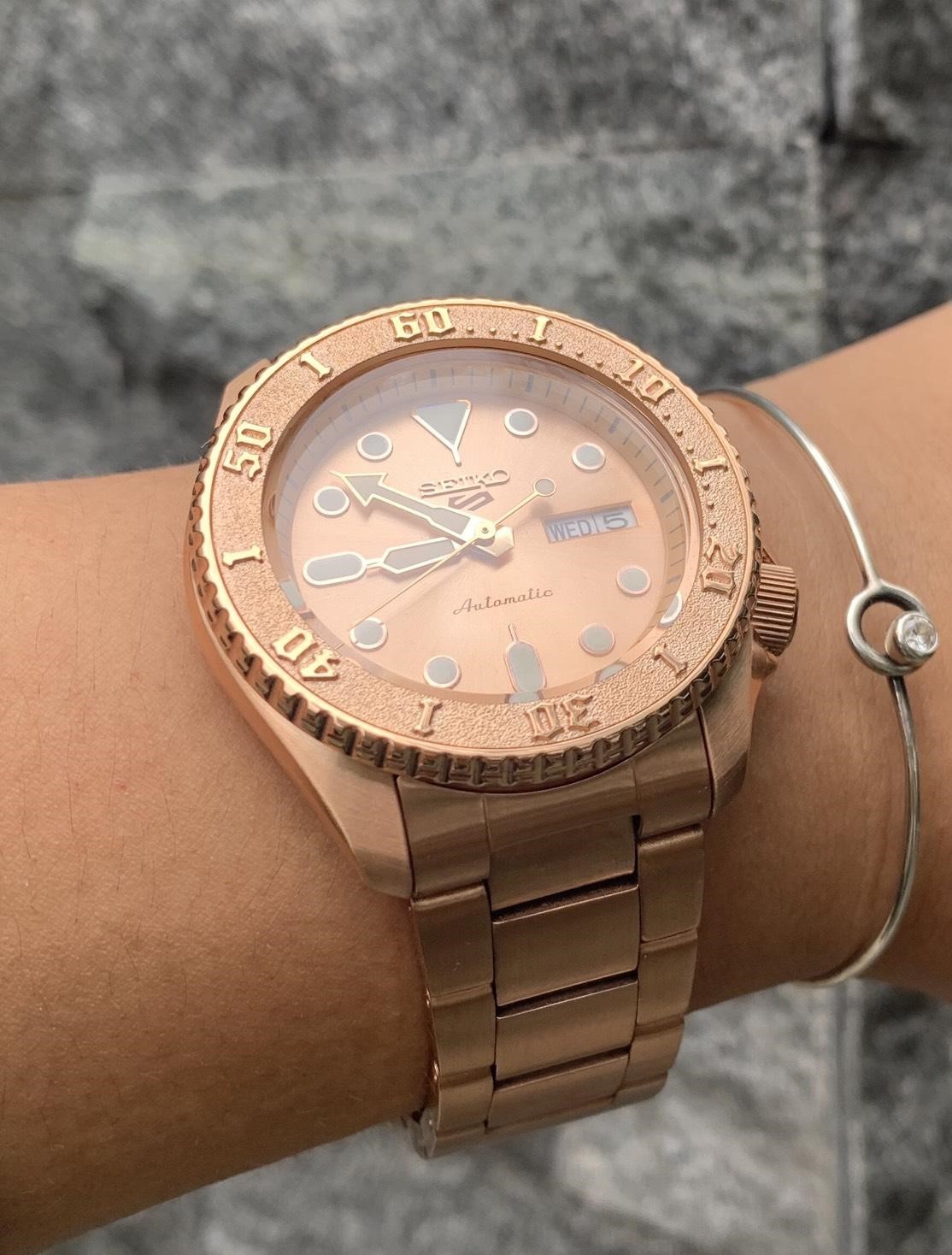 Seiko Prospex, Rose Gold, Photo Courtesy of @henrylin.01
TC: What's your collecting philosophy?
@henrylin.01 If there is not much price difference between a new watch and a vintage watch, I would buy a brand-new one. Excluding whether the watch you choose is an old watch or a model that has been discontinued, otherwise, I think it is more enjoyable to own a brand new watch.
After all, it belongs to you and it represents your personality. Some people buy a Rolex but don't wear it or resell it soon after to make money on the price difference. I don't find that enjoyable. Watches are meant to be worn. Don't worry about its market value or whether it will get scratched or not, it is more important that it makes you happy, not how others look at you.
TC: What advice would you give to beginners who want to start collecting watches?
@henrylin.01 Of course it depends on your own financial ability. You can look for an expert to advise you, at the same time, keep studying and discovering which watches you like and are suitable for you.
TC: Thank you Henry for sharing so much with us today!
@henrylin.01 Thank you Tidlos Craft!