Tidlo Craft had the pleasure to talk to @jewpanese.dude in Tokyo. We hear about his story of living in Japan for 30 years, challenging Western notions of what it means to be an expert, and how Kendo and teaching have shaped his hobby of collecting and appreciating timepieces.
Tidlos Craft: Thank you very much @jewpanese.dude for connecting, we are glad to hear your story.
@jewpanese.dude: Thank you very much for inviting me.
TC: Where are you originally from and what brought you to Japan?
@jewpanese.dude: I'm originally from Los Angeles but grew up all over the place during my youth. My father worked in the US Air Force so we moved to a new base every 3 years. When I was 17, my father got stationed in Tokyo. I was then in high school so did not move with my parents, however I came to Japan for summer and Christmas holidays. That is how I first came in touch with Japan, in 1986. There were not that many foreigners at that time, so we really stood out, blond hair and blue eyes. The country has changed a lot since then.
Near @Jewpanese.dude's home, a shrine in Nakano, Tokyo
TC: When did you move to Japan?
@jewpanese.dude: That was 30 years ago. I studied at a university in San Diego where I met my wife, who is Japanese. After graduation, I basically moved for her.
TC: What work are you involved in?
@jewpanese.dude: I'm a professor in a school of pharmacy and I have been teaching at the university level for 26 years now. I teach in both Japanese and English.
TC: How was it for you to integrate with the culture?
@jewpanese.dude: It had its challenges but learning the language and especially respecting the culture and other societies' viewpoints were crucial. I initially found a job teaching English and found that really fulfilling. I got to love teaching and entered academia. I really felt comfortable living here and learned the language easily. I don't think I could live anywhere else anymore. My children go to a local public school. The education level is very high, a very balanced curriculum with music, art, and physical education. I am happy with the education they are receiving.
Of all the foreign friends I met 30 years ago, most of them have left. Only two really ended up living in Japan for good. You know it was not an easy place to live and stay in touch with family in the US. For example, back in the day, one had to pay 3 US$ per minute for an international call.
TC: How should one look at Japan?
@jewpanese.dude: Standards and hierarchy are very important. Concerning quality standards, I can easily say that if you look at the highest standard in Japan then this is easily valid to be the highest in the world.
View from Tokyo Skytower, Photo Courtesy of @Jewpanese.dude
TC: What do Westerners get wrong about Japan?
@jewpanese.dude: Everything (haha). I sometimes read international news reports about the country. They are often so superficial and a bit sad. The concept of "weird Japan'' bothers me. Japan is no different than any other place. It's a complex country that takes time and effort to learn. Language is the greatest barrier and an ideal opportunity to dive deeper into the culture.
TC: How do Japanese look at Western brands and quality?
@jewpanese.dude: When something is good outside Japan, then they respect it. Rolex for example is worshipped here. Mercedes Benz has been selling here for decades. Many US, Swiss, or German brands are very successful here.
Rolex has even been localized here. There are two kinds of Rolex watches in Japan. There is Rolex and there is "Rolex Japan". Rolex Japan takes everything apart and reinspects it. After they do that, it's branded as Rolex Japan. A grey dealer will advertise it as "Rolex Japan". Nowhere else in the world would they do that.
TC: What makes watches so important in Japan?
@jewpanese.dude: In Japan, you can't be late. To be on time here means 15 minutes early. People often ask me how I achieved becoming a professor in Japan. I simply tell them: "I worked hard, I improved my Japanese skills, and I have never been late nor missed work."
Japan Time: If You're Early, Your Late, Photo Courtesy of Far East Fling
I can't remember having seen a person here without a watch. 90% of the watches here are made in Japan. However, 10% want a Swiss Made Watch. You have a highly knowledgeable horology industry in the country. There are tons of resources (however all in Japanese) so people in the world don't really know about them.
Sculpture in Shinjuku, Tokyo, Photo Courtesy of @Jewpanese.dude
TC: What have you learned about yourself while living in Japan?
@jewpanese.dude: I have been practicing martial arts for 23 years, I have a black belt in Kendo. I'm also kind of a teacher, something you don't often see, that a non-Japanese has mastered a Japanese art. This taught me a lot about perseverance and focus.
I find it kind of funny when I hear people in Western societies who after 3 years of Yoga, say that they're an expert. This would never happen in Japan. After 23 years of Kendo I'd never claim that I know much about it. I have teachers who have 50 years of Kendo experience and are still humble to this martial art.
This concept really resonates with me. With my watch hobby, this is similar. If I find something that I like, I stick to it. People nowadays are trendy and change their focus too quickly. I'm a bit more stubborn, maybe this even helped me integrate into Japanese society.
Japanese Kendo, Photo Courtesy of KLOOK
A Dude Who Started His Obsession with Casio, @Jewpanese.dude and His Road to Becoming a Watch Aficionado
TC: How did your watch journey start?
@jewpanese.dude: My father did not really collect watches. He was a navigator, he owned one watch which he wore in the old style, the dial being inside.
When I was 12 I got my first watch, a Casio which had a built-in alarm function but with 12 different types of melodies. I thought this was the coolest thing ever.
TC: When did you buy your first mechanical watch?
@jewpanese.dude: That was an Omega Seamaster 2501.51.00. I bought it in 1993 as a reward after I earned a bit of money from teaching. I paid 1,500 US$, a lot of money for me at that time. I was fascinated by its 100-meter water resistance function. It had a simple black dial without a date window. As I was born in 1969, I always loved the connection with NASA. There were no forums, nor internet yet, I couldn't research more, I just chose it because it looked great. My son owns it now.
Omega Speedmaster, Photo Courtesy of @Jewpanese.dude
TC: How did you get hooked on watches and collecting?
@jewpanese.dude: With the development of watch forums I got to read and learn more about the craft. I used to be a moderator for Timezone and through that network I have made many lifelong friends.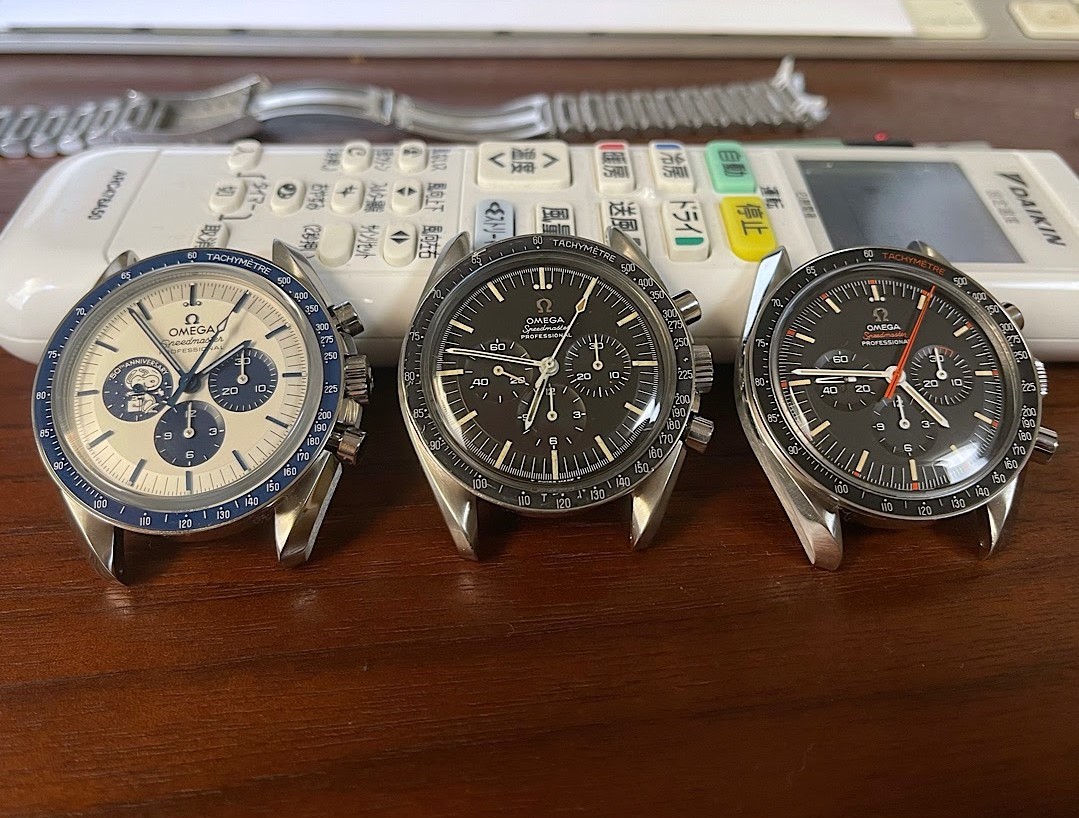 Omega Speedmaster Collections, Photo Courtesy of @Jewpanese.dude
TC: How did you get more knowledgeable about the vintage market?
@jewpanese.dude: I got into vintage watches in 2015 by starting to help many people source their watches from Japan. I can confidently say that I could travel to any country in the world and someone owes me a beer. I believe in karma and do enjoy helping people. Through that, I got a PhD in horology (haha) by connecting and helping people. Some people call me *the Intermediary. I wouldn't call myself an expert but now people ask me about many different things related to watches, Japan, and watches and Japan.
*Story of the Intermediary: https://www.fratellowatches.com/found-universal-geneve-compax-nina-rindt/#gref
TC: Is there a philosophy when collecting?
@jewpanese.dude: I like what I like. What other people follow, doesn't really matter to me. I have tried on Submariners but they don't move me. Certain models of Breitling and Tag Heuer, however, I'm really drawn to. What I have learned, when you buy vintage watches in an educated manner, you rarely lose money.
King Diver, Orient, Photo Courtesy of @Jewpanese.dude
TAG Heuer 73633, Photo Courtesy of @Jewpanese.dude
"

Some watches are just meant to be bought, … a Heuer 73633 from 1970 or so….P.S. 2021 may be the year of the green dial, but we Jewpanese are on a blue dial kick recently. Yes, being Jewpanese means rarely following what the crowds are doing."
Breitling Collections, Photo Courtesy of @Jewpanese.dude
Always Buy the Seller, A Heartfelt Beginner's Guide to Purchasing Watches
TC: Is there a Holy Grail?
@jewpanese.dude: To be honest not really. If I'm not wearing it, I will sell it. I buy watches because I need them for an occasion. And right now there is none that I need.
TC: How did you start your IG Account and why do you combine watches and language?
@jewpanese.dude: I enjoyed sharing about my collection and connecting with the community. The added language component has to do with Yahoo auctions over the years. On Japanese sites a lot of the descriptions are really detailed.
When I translated them to my friends I started to learn about the different nuances in the language and these insights are something I wanted to share.
Photo Courtesy of @Jewpanese.dude
TC: What advice would you give someone who wants to start collecting watches?
@jewpanese.dude: First of all, never buy a watch that you cannot afford. Especially if you can't buy it with cash, then don't do it. Many people buy watches today as they have become trendy. Unfortunately, it has developed into a huge business and many people don't seem to care about the Community anymore.
Don't buy a watch because you can, buy one because you will use it. I enjoy buying watches for occasions. I have a G-Shock for gardening. When I stay home or go shopping I have my Omega.
G-Shock, CasiOak, Photo Courtesy of @Jewpanese.dude
Always "buy the seller." If you don't know the person and you cannot trust him or her then don't buy the piece. When people buy a watch from me I also feel kind of honored. Not only do they like the watch that I like but they trust me. In my little world it's all a little cliche but in the end it is often true.
Educate yourself and don't be lazy. There is more knowledge out there than ever before. I appreciate the Phd I have received in various brands over the past decade. What I admire about some of the major collectors is that they have put in a lot of hard work to educate themselves. They spend time and money to learn what they know and don't stop. A mentor of mine is a great example. Although an expert on Breitling (Fred Mandelbaum @watchfred), he never stops trying to learn more. And they are sharing that knowledge with me. They don't ask for anything in return. I sincerely appreciate this.
TC: What do you enjoy about the Community?
@jewpanese.dude: It might be a cliche, but the Community we have really exists. It's about trust and hard work. About the investigation, the curiosity and the desire to learn more. We are people of our word. When we make a promise we keep it. I appreciate that very much.
The appreciation of a mechanical timepiece resonates with us and brings people together. Doesn't matter religion, gender, or age, it brings people together. If people don't see the value of that kind of Community then that's a true shame.
In today's world, I think this is really needed.
View from New York Bar Park Hyatt Tokyo in Shinjuku, Photo Courtesy of @Jewpanese.dude